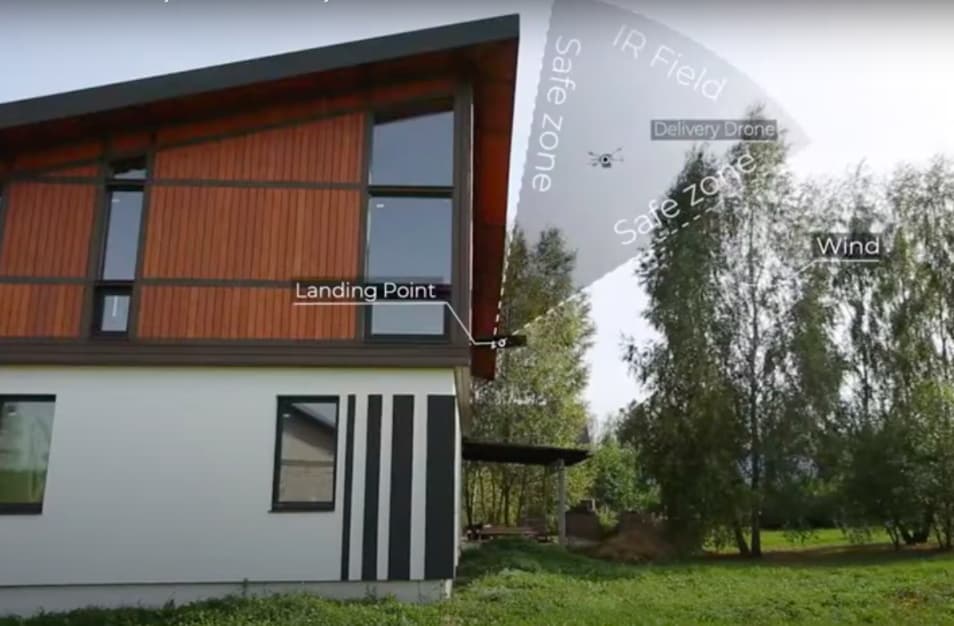 UAVLAS has developed an ultra-high precision autonomous landing system for UAVs (unmanned aerial vehicles), designed to solve the bottlenecks in last-mile drone delivery. The system consists of a suite of sensors and software that provides a direct connection between the drone and its landing site, providing safe and accurate landing on charging stations and mailboxes even in strong winds, darkness and fog, or GPS-denied environments.
The system hardware includes a ground transmitter embedded in the landing platform, and a lightweight plug-and-play onboard receiver for the drone. The software provides compatibility with leading autopilots. The transmitter creates a virtual grid of positions above itself, allowing the receiver to determine its position in relation to the landing platform. No additional sensors or data from the drone's inertial system are required for the onboard unit to determine the distance to the landing site, and movement changes do not depend on the inclination and speed of the aircraft, allowing stable operation even in strong gusts of wind.
The system's low power consumption – less than 0.3 W for the onboard module and 1.1 W for the ground module – make it ideal for SWaP-conscious drone platforms in applications such as delivery, security and surveillance.
Yury Kapacheuski, CEO of UAVLAS, commented: "At UAVLAS we have created a robust and reliable solution for precision landing on any desired site with maximum accuracy, for security, delivery, and inspection applications. Our ultra-high precision landing system is compatible with a wide range of drones. It offers the ability to autonomously land or hover a drone over a visual target for delivery, docking station, warehouse or asset inspection, even in GPS-denied environments."