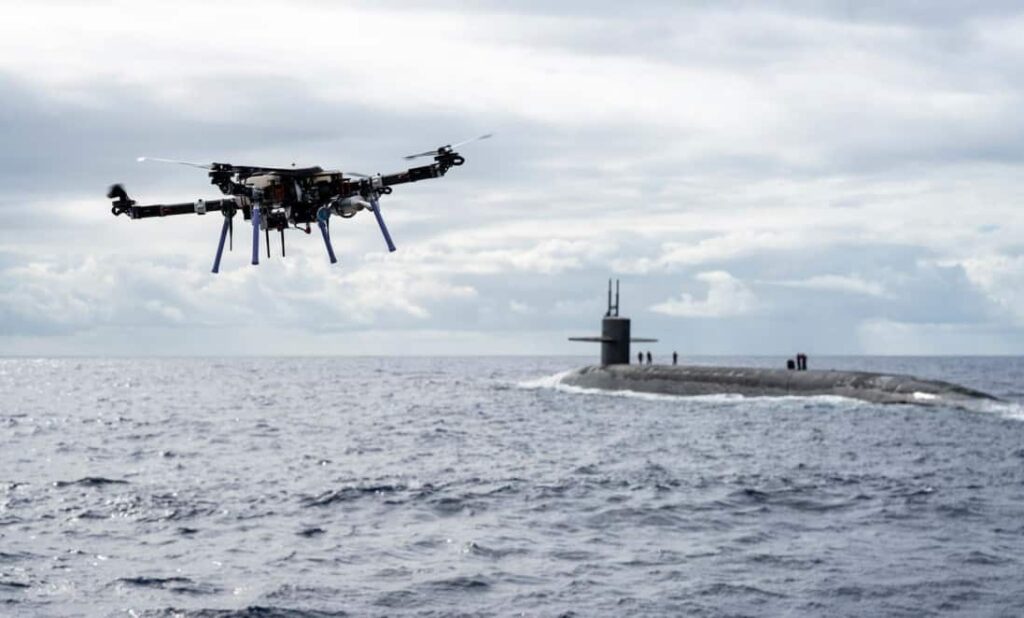 Skyfront's long-endurance hybrid-electric Perimeter UAV (unmanned aerial vehicle) has been used to perform the first ever ship-to-submarine delivery with a drone. The Perimeter unmanned aircraft took off from a moving surface vessel and delivered supplies to the crew of the ballistic missile submarine, successfully demonstrating this as a rapid and cost-effective way to resupply submarines at sea.
The operation showcased Skyfront's command and control handoff capability. During the flight, pilots aboard the surface vessel launched the drone and flew it near the submarine. Once there, pilots aboard the submarine took control of the drone and released the package.
Skyfront offers this capability as an option on all its Perimeter drones, as well as Silvus Technologies' advanced Streamcaster data link radios and Optimum Solutions' long range tracking antennas. The technology allows an unlimited number of pilots and ground control stations to both view video streamed by the drone and take control of the aircraft at any time, using joysticks or Skyfront's satellite map software.
The command and control handoff capability is ideal for long-range drone missions, allowing line-of-sight control to be maintained by using multiple distributed pilots and thus complying with aviation regulations in many jurisdictions. It also allows pilots to maintain full control of the drone while flying over environments where radio links are likely to be affected by line-of-sight obstructions.
Find suppliers of VTOL UAVs >