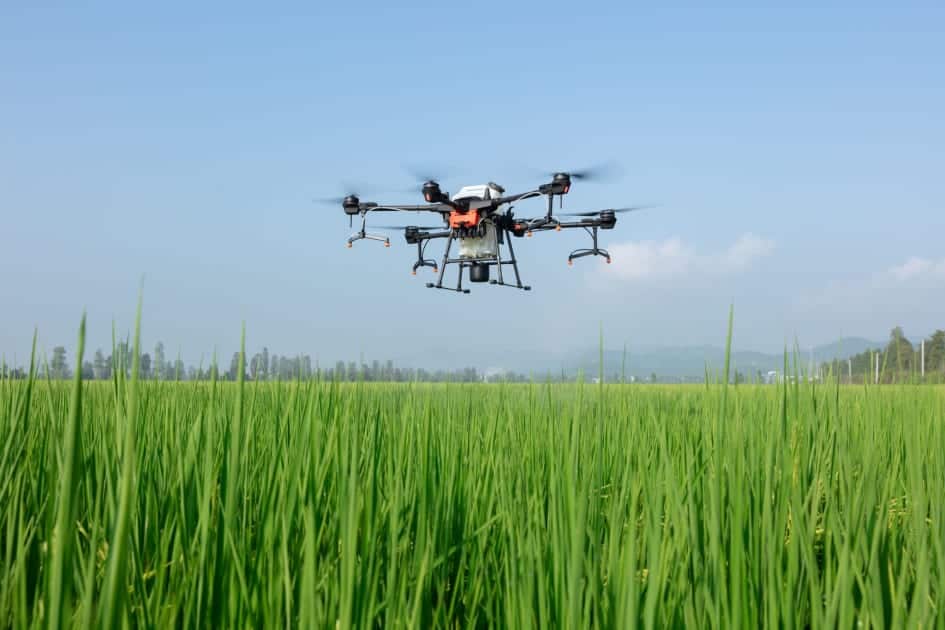 DJI has unveiled the Agras T20, a high-performance and intelligent precision agriculture drone designed for spraying applications. The autonomous UAV (unmanned aerial vehicle) has been optimized for operation in a range of complex environments and different agricultural terrains.
The Agras T20 can carry a maximum payload of 20kg, and is equipped with 8 spray nozzles and high-volume pumps that can spray at a rate of up to 6 litres/minute. The new drone improves over DJI's previous agricultural platforms with a 20% improvement on the uniformity of spray droplets and an effective spray width of 7 meters. A new 4-channel electromagnetic flow meter design monitors and control the four hoses individually, ensuring an efficient flow rate for each nozzle.
The aircraft's Omnidirectional Digital Radar system detects obstacles from all horizontal directions, and can automatically circumvent them while flying over various terrains, ensuring a high level of operational safety. It also features strong resistance to dust and water with an IP67 rating.
The Agras T20 enables users to set flight and operation parameters easily. With a built-in RTK centimeter-level positioning system and RTK dongles, centimeter-level waypoint recording is enabled, ensuring precision spraying operations. The drone is also equipped with a real-time FPV camera and two searchlights, providing users with comprehensive live views even during low-light operations.
The drone has been designed with a robust modular design that folds and unfolds in seconds for enhanced portability. The spray tank and battery are both swappable, reducing downtime and increasing workflow significantly. The new programmable DJI AGRAS Smart Controller 2.0, along with the Agras app, provides an intuitive and smooth user interface. The controller features an ultra-bright 5.5-inch display for readability even under direct sunlight, and also supports external battery packs for enhanced operation times.