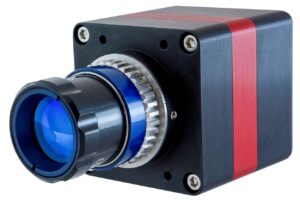 Raptor Photonics' Owl 1280 VIS-SWIR (visible & shortwave infrared) camera has been recognised as a Gold honouree at the 2020 Laser Focus World Innovators Awards. The award was given by an esteemed and experienced panel of judges from the optics and photonics community, and confirms the status of the Owl 1280 camera as one of the most innovative products impacting the photonics community this year.
The Owl 1280 is a state-of-the-art HD format digital camera based around a 1280 x 1024 InGaAs sensor and designed for high-resolution, high sensitivity imaging. The Gold-level Innovators Award recognizes a substantial improvement over previous methods employed, approaches taken, or products/systems used.
With less than 50 electrons readout noise and a high intra-scene dynamic range, the camera provides simultaneous high-performance capture of both bright and dark portions of a scene. Featuring onboard Automated Gain Control (AGC) and intelligent 3-point Non-Uniform Correction (NUC) for high-quality results, the compact, low-power Owl 1280 is ideal for UAV (unmanned aerial vehicle) surveillance, inspection and other demanding drone and unmanned systems applications.