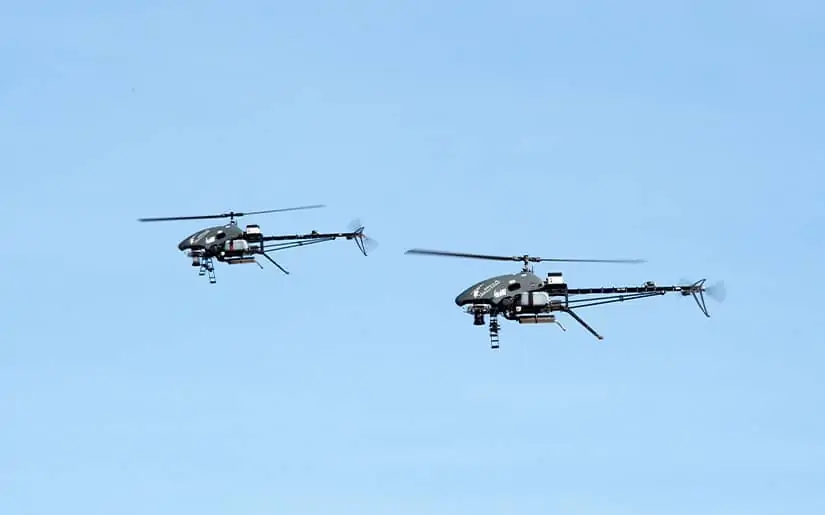 Alpha Unmanned Systems' helicopter UAVs (unmanned aerial vehicles) have formed the basis for MultiFlyer, a new product from IAI that uses a synchronised squadron of unmanned helicopters to provide advanced wide-area monitoring capabilities for a variety of non-military applications, such as search and rescue, law enforcement, traffic control, and marine and agricultural monitoring.
MultiFlyer can be activated from a tablet or smartphone that serves as a single point of control for synchronised UAV capabilities including automated takeoff and landing, flight planning, mission management and more. A secure network connection allows simultaneous usage by multiple operators, and the system can be adapted to work with other drones and a wide variety of payloads.
Alpha Unmanned Systems' helicopters were integrated with components from IAI and other companies, with a command and control system designed by Simplex and area scanning technologies provided by Sightec.
Moshe Levy, IAI EVP, commented: "IAI is a leader of trailblazing technologies with UAV experience spanning 50 years, and we are constantly seeking additional areas in which we can invest our R&D capabilities. MultiFlyer is a significant milestone in this respect and we anticipate more developments in this field."
Eric Freeman, CEO of Alpha Unmanned Systems, said: "Alpha is delighted to be the platform of choice for this world-leading initiative. Reliable and versatile platforms that can fly at least 90 to 150 minutes are essential for a variety of missions. Alpha helicopters make many more missions possible and it is an honor to support IAI."
Shai Levy, CEO of Simplex, stated: "Simplex is proud of our collaboration with IAI to develop this system. The command and control system, known as the Flightops, is designed to enable the control of a large number of UAVs autonomously and allow the operator to focus on the mission at hand."
Roy Shmuel, CEO of Sightec, said, "Sightec is a leading creator of AI-powered optical scanning solutions for autonomous systems. The use of our technology as part of the MultiFlyer UAV system enables the autonomous and efficient scanning of large areas of territory."