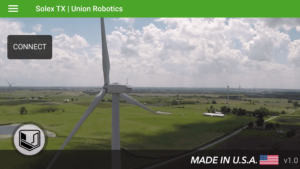 Union Robotics and Solex have partnered to develop secure software for UAVs (unmanned aerial vehicles) and unmanned systems that is suitable for U.S. private commercial enterprise and government agency use.
Concern for drone data security has increased in recent years, with a ban on U.S. federal agencies from purchasing drones and related equipment from certain foreign entities currently pending before Congress.
The U.S. government has already required use of U.S.-made drones for critical infrastructure, and it is possible that private entities may have to follow suit, in order to protect proprietary information and other data-related interests.
Due to widespread use of components from foreign sources, it has become increasingly difficult to find UAVs that are not only manufactured in the U.S., but that also use electronics and components, including software, that are manufactured in the U.S.. Union Robotics and Solex have thus partnered to create complete drone hardware and software solutions that can provide both private enterprise and government entities with peace of mind with regards to matters of data security.
Ezekiel Bierschank, Union Robotics President, commented: "Drones must be exemplary when it comes to cybersecurity. Union Robotics unmanned systems have safeguards that protect sensitive information and make them a secure choice for corporate and government use."
Kelly Schrock, founder of Solex, explains how the U.S.-developed software prevents data breaches: "The Union Robotics/Solex software explicitly does not share data or report activity to third parties or unauthorized cloud servers, all user information stays with the user. Some foreign made software has been investigated and proven to send collected data to third party servers not authorized by the user. The Union Robotics/Solex data stays secure within the system unless and until the user transfers it elsewhere."
Jeremy Highhouse, Union Robotics CTO, said: "National data security has never been more important. I've been astounded at the willingness of critical infrastructure owners and operators to open themselves up to attack by using aircraft that have been tested and proven to be first-degree security liabilities. Unauthorized access to data of this critical nature has real consequences for everyone down the line. I believe we will see the need for reducing data security liability grow just as we've seen the need to reduce wildfire liability for critical infrastructure owners and operators."