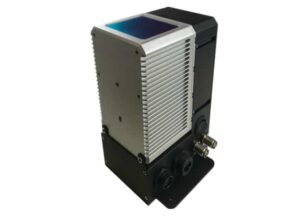 PolyExplore has unveiled the Polyscanner LS1, a high-precision LiDAR mapping system designed for UAVs (unmanned aerial vehicles) and other aerial platforms. Based around advanced solid-state LiDAR technology that lowers the system's SWaP-C (size, weight, power and cost) footprint without sacrificing performance, the Polyscanner LS1 uses a unique scanning pattern and focused field of view (FOV) to create a dense point cloud with a detection range of over 200 metres.
This latest addition to the Polyscanner family of aerial mapping platforms incorporates PolyExplore's Polynav 2000 precision GNSS-aided INS (inertial navigation system) technology, featuring a dual-frequency, dual-antenna, quad-constellation PPK/RTK capable receiver with centimeter-level accuracy and a tactical grade IMU. Sensor fusion post-processing software is also included as part of the package, and drone adaptors with custom vibration dampers and high-performance dual antennas are available on request.
The Polyscanner LS1 is factory-calibrated, eliminating the need for user calibration. The high-precision system delivers precision geo– and time-annotated point cloud models, with results comparable to more expensive conventional systems.
The compact system, weighing in at less than 1.3 kg and measuring 160mm x 120mm x 107mm, can be fitted to a variety of UAV platforms and is ideal for a range of mapping and surveying applications, such as infrastructure, forestry, asset management and environmental erosion monitoring.