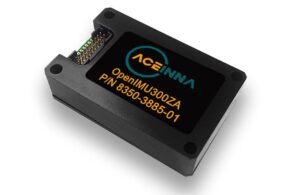 ACEINNA has released a Robotic Operating System (ROS) driver for its family of OpenIMU sensors, allowing robotic application developers to quickly and easily integrate highly accurate (<1.5°/hr) IMUs (inertial measurement units) into navigation guidance systems for drones and other robots.
Each sensor in the OpenIMU family, which includes the OpenIMU300ZI, OpenIMU300RI, and OpenIMU330BI, provides distinct hardware features and a triple-redundant architecture, giving developers a variety of high-reliability performance options for specific robotics and autonomous vehicle applications.
The open-source nature of the sensor architecture makes each device highly configurable, and several software applications are available, with source code on Github and the ACEINNA Extension on Microsoft Visual Studio Code. These applications include IMU, VG-AHRS, and INS.
James Fennelly, Product Marketing Manager – Inertial Systems at ACEINNA, commented: "This new ROS driver makes it simple to integrate a wide variety of ACEINNA IMUs (Inertial Measurement Unit sensors) into almost any robotics applications (warehouse robotics, autonomous vehicles, last mile deliver robotics, etc.), which use ROS. When combined with our IMU's industry leading reliability and accuracy, as well as very competitive pricing (under $100), developers of robotic solutions finally have an easily integrated, rock-solid solution for their navigation and localization challenges."
To find out more about the new OpenIMU driver for ROS, click here.