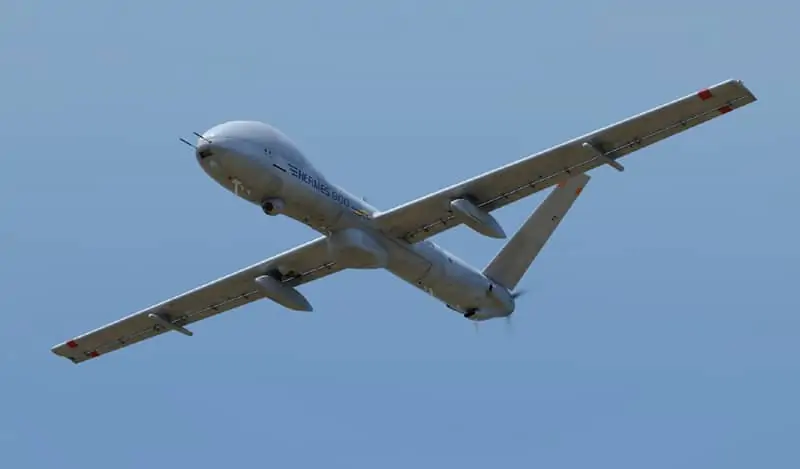 The United Kingdom Maritime and Coastguard Agency (MCA) has performed a series of successful flight trials with the Elbit Systems Hermes 900 Unmanned Aerial System (UAS), testing the aircraft's Search and Rescue (SaR) capabilities and its long-range operations in civilian airspace.
The BVLOS (Beyond Visual Line of Sight) flights took place off the west coast of Wales, venturing into unsegregated and uncontrolled airspace, in full alignment with the UK Civil Aviation Authority (CAA). Elbit Systems UK is closely collaborating with the CAA, helping the MCA to improve the efficiency and effectiveness of its search and rescue operations while reducing the risk to operators in the field.
The Hermes 900 UAS, which has a wingspan of 15m and weighs 1.2 tons, was equipped with search and rescue specific radar, an Automatic Identification System (AIS), EO/IR payload, an Emergency Position-Indicating Radio Beacon (EPIRB) and full satellite communications. It undertook a range of simulated missions including shore-line rescues, water rescues in dangerous airspace, and long-distance ship rescues that crossed international air space lines.
The Hermes 900 has already been deployed with more than a dozen customers around the globe, providing search, rescue and reconnaissance capabilities. A special Maritime Patrol configuration has recently been launched, with inflated life-rafts for detection, identification and saving the lives of survivors at sea.
Martin Fausset, CEO of Elbit Systems UK, commented: "We are pleased to have had the opportunity to showcase our enhanced search and rescue capabilities to the MCA this week. The Hermes 900 is perfectly equipped to deal with the needs of the Maritime and Coastguard Agency and we are proud to be able to support them as they continue with their vital, life-saving work."
Claire Hughes, Director of HM Coastguard, said: "We continue to do all we can to use existing technology as well as look to the future in our ongoing work of saving lives at sea. Remotely piloted aircraft continue to be a big part of that work both to potentially save lives in search and rescue and protect our beautiful coastlines from the worst effects of pollution."