CR Flight has developed a revolutionary new motor technology for UAVs (unmanned aerial vehicles) that allows a single motor to drive counter-rotating propellers without using any gears. The Spirit series of drone motors is designed and manufactured in the United States, making it ideal for inclusion into UAV designs that will satisfy forthcoming legislation concerning foreign-made drones and components.
CR Flight's motor design is based around a rotary transformer that drives both the rotor and the armature in opposite directions at the same time, transmitting power through the transformer. This allows the motors to run much cooler, as the rotating armature acts as an axial compressor, sucking air through the motor and providing increased cooling of the windings.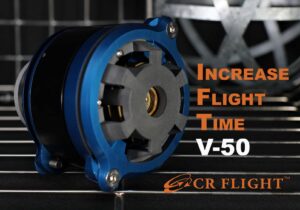 The new motors also provide a significant increase in thrust efficiency per watt, thus enabling a wide variety of new drone designs. The increased cooling allows the motors to be warrantied for 500 hours, and CR Flight believes that a 1000-hour TBO (time between overhaul) is possible, at which point the motors can be rebuilt at a fraction of their initial cost. This will translate to a lower overall cost for UAVs utilising the Spirit motors, giving them an advantage over other drone designs with motors that only last for around 50 hours.
The new Spirit product line includes:
The V-10 – a small motor capable of 10 lbs of sustained thrust, which can be used as a replacement for the motors in the DJI M600 drone commonly used for many surveying and LiDAR applications
The V-20 – capable of 20 lbs of sustained thrust, and compatible with many larger commercial drones with octocopter configurations, allowing them to drop to four motors and significantly reducing the wattage required for flight.
The V-50 – capable of sustaining 50 lbs of thrust at 48 volts and 65 amps, or 20 lbs of thrust at 18 amps – designed for larger commercial drones that require a long loiter time, as well as allowing hybrid power systems to run on the generator alone.
Further products are also currently under development that will provide sustained thrust levels of 100 lbs and 220 lbs.