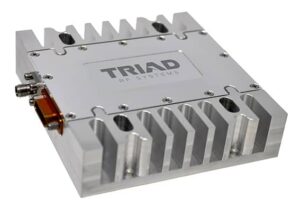 Triad RF Systems has extended its line of commercial-off-the-shelf (COTS) wideband high power amplifiers with the TA1264, a lightweight, compact unit designed with the latest GaN transistor technology in response to the growing need for enhanced counter-UAS (unmanned aerial systems) solutions.
Weighing just 16 ounces and measuring under 4" square and under 1" in height, the TA1264 features a broad frequency range of 300 MHz to 6 GHz and delivers high power density and optimal linearity and efficiency. Packaged in a rugged enclosure and engineered for reliable operation even under harsh environmental conditions, the TA1264 is ideal for critical electronic warfare system applications, from simple CW/FM signals to highly modulated carriers such as 64 and 256QAM for software defined radios (SDRs).
The Triad RF family of wideband high power amplifiers is available with internal wide input range (12-28VDC) DC-DC conversion sections, which simplify system designs by eliminating the need for external DC converters to power the amplifier. This results in greater overall efficiency, as the internal converter is designed and matched for peak efficiency at the amplifier's operating current range. The amplifiers also provide advanced built-in monitoring and control sections that can be interfaced with microprocessors, FPGAs, CPLDs, or a combination of these devices. Available functions include temperature output, DC monitoring to the device level, and power control across various frequencies.