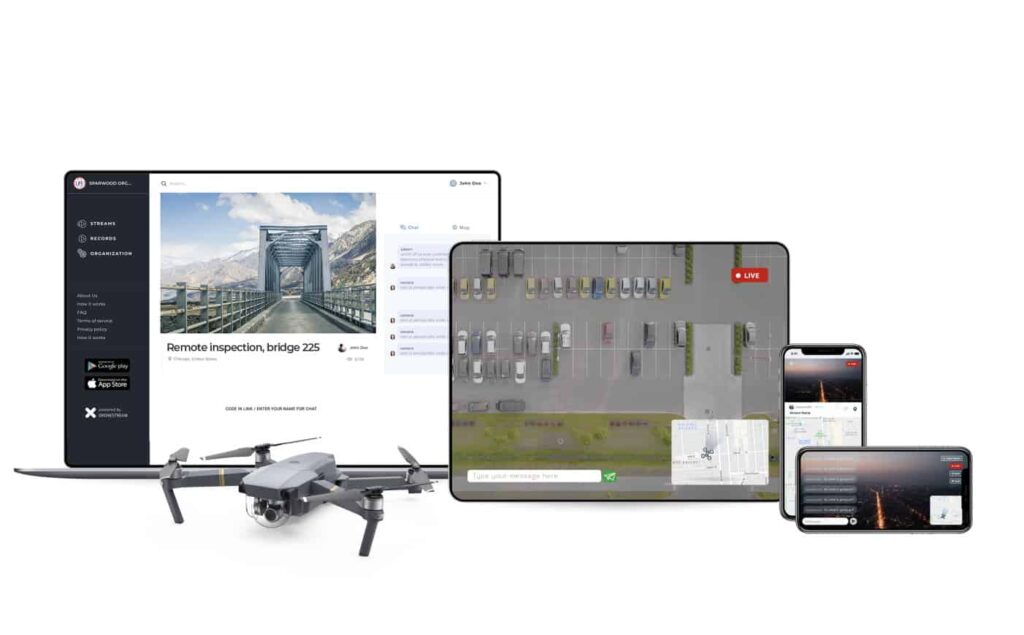 Dronestream has announced a new Enterprise version of its real-time drone data streaming platform, built from the ground up based on feedback from thousands of existing customers.
New features added to the new Enterprise platform include a completely revamped secure web portal as well as mobile apps for improved usability. Drone pilots can take advantage of a plug-and-play capability that removes the need for specialist technical knowledge in setting up video and data streaming. Organisations can manage their pilots usage, viewers, records and more from the portal. Live streams are transmitted and received via a highly reduced bit-rate to ensure that the stream is stable even in low to moderate bandwidth conditions, without sacrificing video quality.
Dronestream Enterprise has been designed with a modular approach, meaning that customers can request bespoke features and new scalable updates can be rapidly deployed throughout the user base without any downtime, due to the cloud-based architecture. The new product has been rolled out natively on iOS, Android, SmartController, CrystalSky and Web to ensure users can start and access a stream with minimal effort. Dronestream is currently exploring opportunities with mobile telecommunication companies to see how 5G can further enhance drone technology, taking advantage of the low-latency capabilities of the new technology.
Dronestream was originally developed to provide a solution for commercial drone operators that needed a reliable and efficient way to share live aerial insights received from the drone with other team members, subject matter experts, control rooms or clients. The platform enhances situational awareness by providing live map insights, communications and the ability to easily save a record of the finished live stream, synced with the telemetry and communication throughout the flight. Live streams can be joined from anywhere via 4G/LTE/5G or WiFi via any device.
During the current COVID-19 pandemic, Dronestream has seen a spike in the need for sharing live drone data to reduce the need for additional employees on site, and de-risk the potential spread of the virus. Dronestream is helping organisations to work remotely, while collaborating with a
single drone operator on the site they aim to survey.
Dronestream has also recently participated in the SSAP accelerator program at its Mobile Communication head office in Sweden. The team worked alongside leading engineers, business experts and advisors to perfect the platform, resulting in an investment from one of the world's largest technology companies. This investment will allow Dronestream to continue its R&D efforts and further enhance its platform with advanced remote drone capabilities for businesses.
Harry Howe, CEO and Co-Founder of Dronestream, commented: "SSAP have propelled Dronestream into new ways of thinking about the future."