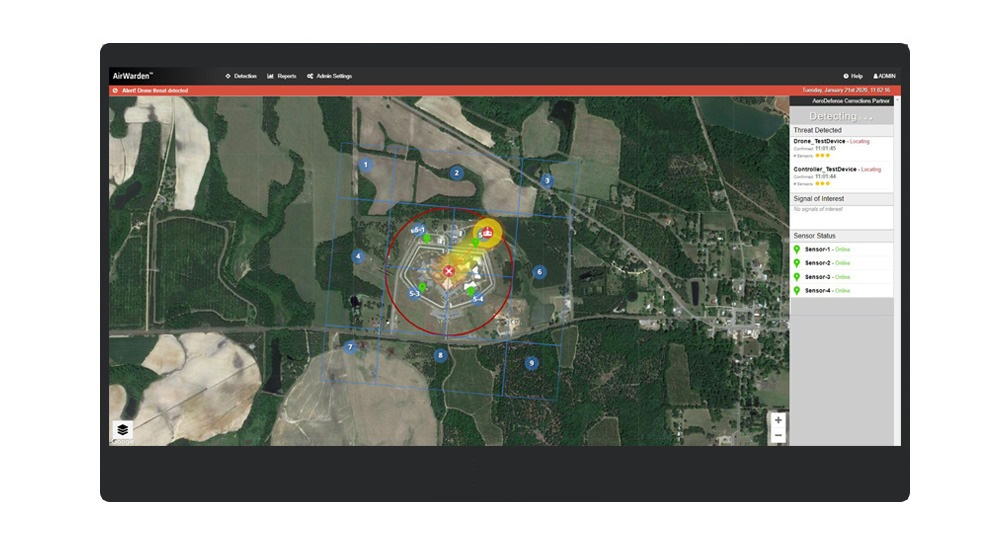 AeroDefense has introduced a new mobile deployment version of its AirWarden drone detection system, which provides simultaneous detection and localization of drones and their pilots. The new mobile systems can operate independently, as a patrolling group, or in conjunction with permanently mounted systems.
AirWarden consists of a compact four-inch, four-ounce antenna that can be easily mounted on an external antenna mast, and detection electronics designed to be mounted inside a mobile command vehicle or marine platform. The system is intended to provide security teams and law enforcement with actionable intelligence on rogue drone threats and pilot locations for quick, targeted responses.
The AirWarden mobile sensors create a dynamic network that enhances location accuracy. When one of the sensors comes within range of a fixed network, it can extend the range of that network. Mobile sensors in separate vehicles or vessels can move at patrol speed in a search grid pattern to locate both drones and pilots.
Linda Ziemba, Founder and CEO of AeroDefense, commented: "AeroDefense offers the unique capability of drone detection in motion that does not require legal authorization to operate. We already had a solid foundation for the software that received a Department of Homeland Security SAFETY Act designation last year, so adding flexible deployment options allows us to help security teams protect more people."