C-Astral Aerospace, a leading developer of fixed-wing UAS (unmanned aerial systems) for tactical, long-range and high-precision data gathering applications, has partnered with Unmanned Systems Technology ("UST") to demonstrate their expertise in this field. The 'Silver' profile highlights how their unmanned aircraft can provide unparalleled efficiency and productivity for a wide range of missions, including battlefield reconnaissance, force protection, first response, large-scale mapping in high precision, forest management, precision agriculture, change detection, utility inspection and more.
The BRAMOR C4EYE UAS is a state-of-the-art C4ISR (Command, Control, Communications, Computers, Intelligence, Surveillance, and Reconnaissance) solution designed to provide real-time situational awareness for critical missions. Featuring a flight endurance of up to 3 hours, a range of up to 180 km and a standard line-of-sight (LOS) datalink range of up to 40km, the BRAMOR C4EYE provides unparalleled efficiency for large-scale, long-range government and private company operations.

The aerodynamic blended-wing modular airframe design, constructed from advanced composite materials (Kevlar/Carbon/Vectran), provides a high level of durability and wind resistance and is very hard to detect with conventional radars. The system includes the drone with sensor payload, a foldable takeoff catapult and a rugged ground control station (GCS), all fitting neatly into a MILSPEC, rain-resistant backpack. Designed for fast deployment, the BRAMOR C4EYE can be made flight-ready in less than five minutes, and is intended to be operated by a two-person crew, with safe single-operator command possible if necessary.
The BRAMOR ppX is specifically engineered to provide rapid, sub-centimetre accurate geolocated orthomosaics in high resolution for surveying and remote sensing applications, without the need for a grid of ground control points. Featuring advanced GNSS PPK (Post Processing Kinematic) capabilities, the system incorporates a state-of-the-art survey grade multi-constellation, multi-frequency receiver.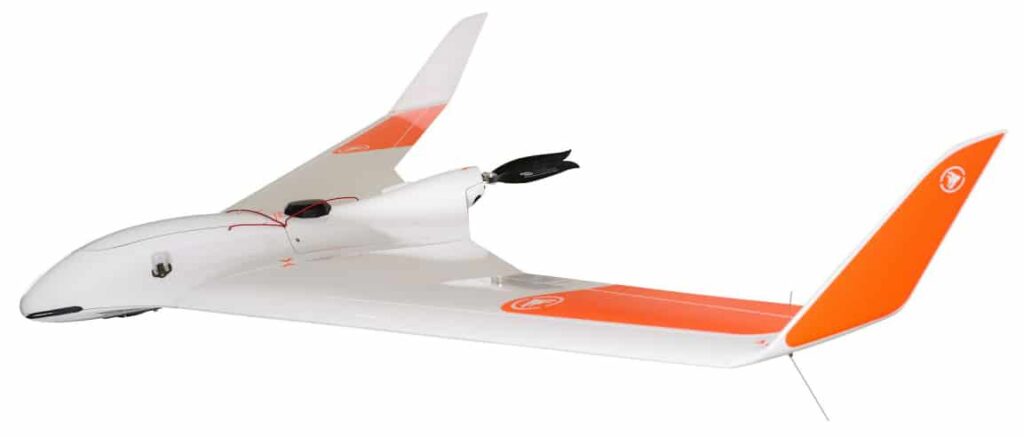 The system's aerodynamic design and rugged composite material construction allow it to fly in winds of up to 45 km/h or 12 m/s and operate in challenging remote environments. With a flight endurance of up to 3 hours, the BRAMOR ppX delivers superior high-productivity autonomous data gathering for mapping and surveying.
The UAS package is comprised of the drone, a portable and ergonomic rugged ground control station, a catapult launcher and one or more payload options (24.2 MP RGB sensor as standard).
The ATLAS C4EYE is a lightweight fixed-wing drone designed to meet the agility and versatility needs of first responders and special operation forces. With a flight time of 90 minutes and combined EO/IR payload, the ATLAS is ideal for providing rapid situational awareness, day or night.

The bungee-launched compact system can be safely operated by a single person and is accurately and silently recovered via parachute, with full payload protection. The system can also be launched using an optional handheld bungee gun.
The aerodynamic blended-wing design, featuring advanced composite materials (Kevlar/Carbon/Vectran), minimises takeoff weight while maximising stealth and survivability. Ideal for surveillance, the ATLAS C4EYE features quiet operation at 80 metres above ground level.
ATLAS' modular construction allows fast repairs and payload swapping in the field, and the scalable system architecture can incorporate future sensor developments. The system, including the drone, payload and rugged ground control station, can fit into a MIL-SPEC rain-resistant case or backpack, and can be deployed in less than three minutes.
To find out more about C-Astral Aerospace and their fixed-wing UAS for surveying and real-time situation awareness, please visit their profile page:
https://www.unmannedsystemstechnology.com/company/c-astral/