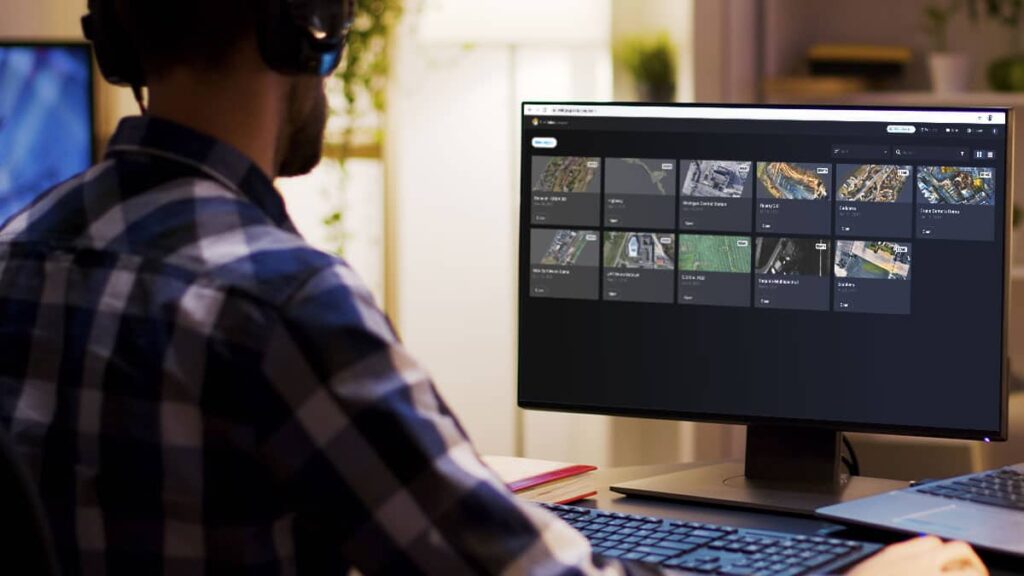 Pix4D has released new standalone cloud processing solutions providing drone surveying workflows and construction site monitoring capabilities, Pix4Dcloud and Pix4Dcloud Advanced. The new platforms run Pix4D's photogrammetry algorithms for mapping and modelling reality from images.
Both products have been designed as a replacement for the previous Pix4D Cloud platforms. Pix4Dcloud Advanced provides additional functionalities for the construction industry with timeline-based monitoring and improved accuracy.
Pix4Dcloud Advanced allows projects to be processed with ground control points (GCPs) directly on the cloud. Combined machine learning and computer vision allows the exact centre of a GCP target to be automatically pinpointed almost instantly with pixel-level accuracy.
All projects and datasets are now in one place on the drive. Projects and sites can be easily searched and there is no need to go from one application to another to open different project types. On the map view, annotations and overlays are automatically grouped, to make work and collaboration easier. All grouped layers can be hidden with a click, and multiple annotation groups can be created and simply reorganised.
When bundled with Pix4D's Crane Camera, Pix4Dcloud Advanced provides an easy-to-use, versatile solution for automatically capturing and processing construction site imagery without interfering with site operations. Improvements made in the alignment process have resulted in enhanced alignment of projects from the same construction site captured on different dates.
Christoph Strecha, Founder and CEO of Pix4D, commented: "Pix4D's new and improved cloud solutions actively contribute to completing the existing desktop and mobile product offering. Integrating Pix4D's leading algorithms and know-how in an online platform delivers strong value to professionals in need of a powerful, flexible, and easy-to-use application."