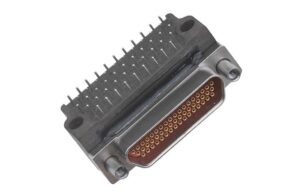 Cinch Connectivity Solutions has launched a threaded insert option for its Dura-Con range of PCB Micro-D connectors, thus reducing the amount of additional hardware normally required for mounting. The new range options include threaded inserts and jackposts (hardware code W) and threaded inserts only (hardware code T).
The Dura-Con series meets the requirements of the MIL-DTL-83513 standard, making it ideal for rugged military and industrial applications such as UAVs (unmanned aerial vehicles) and UGVs (unmanned ground vehicles) that require high-reliability interconnects with low footprints and high contact density.
The Dura-Con connector series is available in solder cup, wire lead and PCB termination configurations, with a 0.050" pitch and metal or plastic shell options. The Board Straight (BC), Board Right-Angle (BR) and Condensed Board Right-Angle (CBR) configurations all feature the standard M83513 footprint.