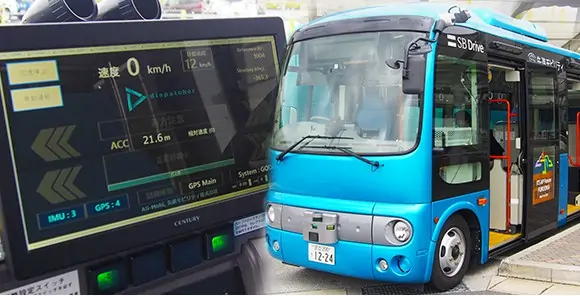 Trimble has released a case study outlining how the company's GNSS positioning products are being used by Advanced Smart Mobility (ASM) and the University of Tokyo for research into autonomous driving and intelligent transportation systems (ITS) geared toward large trucks and buses.
Download the full case study here
Japan is currently undergoing a significant shortage of drivers for public mass transportation, and in order to solve this problem, the country seeks to create a smart public transportation system, including autonomous buses and trucks.
ASM's research is focusing on how to build an autonomous system that responds accurately in multiple environments (urban, suburban and mountain areas). In order to perform correctly in those settings, the system needs to be stable and robust, while also being capable of delivering accurate vehicular localization.
In order to achieve the highest level of accuracy, ASM, who have a long-standing relationship with Trimble, has selected a number of the company's products, including:
Trimble BX940 Enclosure – integrated GNSS-Inertial engine in a rugged sealed enclosure
BD940-INS GNSS-inertial receiver module – multi-constellation single-board receiver designed for easy integration
Zephyr 3 Rover antenna – lightweight GNSS antenna optimized for precision RTK and roving applications
Unmanned ground vehicles require high accuracy and reliability, with hardware that is easy to integrate to reduce development time and cost. To find out more about how Trimble's positioning products can achieve these goals, download the full case study here.