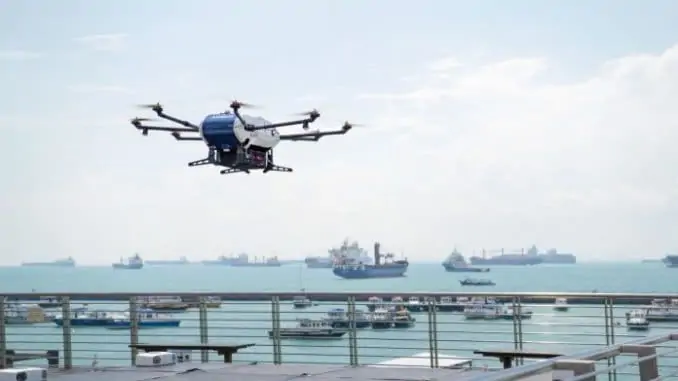 Airbus has partnered with communications company M1, the Infocomm Media Development Authority (IMDA) and the Maritime and Port Authority of Singapore (MPA) to conduct 5G standalone network trials with unmanned aerial vehicles (UAVs) at the Singapore Maritime Drone Estate. These trials are the latest in Singapore's endeavour to create an open 5G ecosystem for port operations and incident management and response.
M1 will also be collaborating with TeamOne Technologies to support the development of local capabilities within Singapore's small and medium-sized enterprises. TeamOne aims to design and develop the world's first aeronautical certified 5G standalone communication modem for urban air mobility (UAM) operations. The company's modem design will be tested and optimised during the trials.
The trials will be conducted under real-world conditions to ensure that drones can operate safely and efficiently during all phases of their flights, including operations in the designated flight zones. Both coastal and inland connectivity trials will be undertaken, and all necessary permits and approvals will be sought from relevant agencies prior to any flights.
M1 will provide 4G and 5G network planning, data collection for performance and coverage analysis in the operating areas, and network parameter optimisation and implementation of interference minimisation methods. The company will assess the use of 4G and 5G technologies to provide enhanced geo-location positioning information for all phases of UAS flight using network-based information, which is more precise than the currently-used GNSS technologies. Additionally, M1 will assess the network performance enhancement in connection stability, uptime and data throughput by aggregating seamlessly both 4G and 5G networks.
M1 has already conducted numerous successful trials in conjunction with Nanyang Technological University to provide command, control and communication capabilities required for safe and efficient drone operations using M1's 4.5G networks. With the advent of 5G SA networks, which support low-latency, responsive, secured and high-throughput mobile connectivity, cellular networks are expected to be able to provide even more precise, safe and reliable communications for drones.
Airbus will provide a drone fleet for flight testing and contribute its extensive expertise in systems integration, ensuring that the flight operations meet safety and regulatory requirements. The findings from these trials will help form a better understanding of evolving 5G standards, their feasibility and requirements for UAM applications, and future citywide UAS operations in Singapore's urban and coastal environments. The establishment of a standard will open up the possibility for safe adoption of 5G as a core technology used in future UAV designs and operations.
Manjot Singh Mann, Chief Executive Officer of M1, said: "M1 has been a front runner in supporting the maritime industry to drive adoption and application of smart 5G technologies, and we are very pleased to be working with IMDA and MPA to innovate more 5G use cases in a live environment. By bringing together the strong domain expertise of both M1 and Airbus, this partnership serves as a real test bed for shaping the future of Urban Air Mobility technologies by utilizing advanced 5G SA network. We are also excited to partner with a local company TeamOne, for the development of a tailor-made 5G SA communication modem that meets the stringent technical specifications required for Unmanned Aircraft System operations."
Tan Kiat How, Chief Executive at IMDA, commented: "Singapore continues to forge ahead with our efforts for 5G innovation in support of the nation's Digital Economy. We believe that 5G will sharpen Singapore's competitive advantage as a key trading and connectivity hub in the region and beyond. IMDA is pleased to see tremendous interest by companies to develop innovative 5G use-cases. It is especially encouraging to see SMEs such as TeamOne playing a role in 5G innovation, and I would like to encourage other enterprises big and small to join us in building an open and inclusive 5G ecosystem."
Quah Ley Hoon, Chief Executive of the MPA, said: "Given the growing need to create more efficient and sustainable solutions for the maritime industry, MPA supported the world's first ship-to-shore drone delivery trial by Airbus and Wilhelmsen last year. We look forward to deepening the collaboration with Airbus and M1 to pilot innovative use cases for 5G technology in the maritime industry."
Isabel Del Pozo De Poza, Head of UTM at Airbus, stated: "We are excited to partner with M1, IMDA and MPA to accelerate the development and adoption of UAM and Unmanned Traffic Management. This collaboration will establish key cellular 5G performance metrics and requirements to enable UAS to safely integrate and fly in national airspace systems. We look forward to combining our aerospace and UTM knowledge with M1's technical expertise in the cellular industry, to enable the next age of aviation."