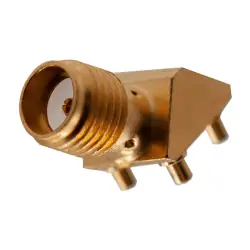 A new 45° connector version of the Johnson 2.92mm connector by Cinch Connectivity Solutions has been announced.
The connector is uniquely designed for quick and easy mounting in tight spaces, where height or board edge can be restrictive, and an angled design is preferred.
Cinch Connectivity Solutions' 2.92mm 45o PCB Mount connector offers maximum VSWR of 1.25 to 26.5 GHz and 1.50 from 26.5 to 40 GHz. It utilizes a solderless contact to the PCB surface, with two screws for quick and easy mounting to allow a mid-board launch. These 45o PCB Mount connectors are commonly used for applications in semiconductor foundry equipment, chip testing fixtures, board characterization and test and measurement equipment.