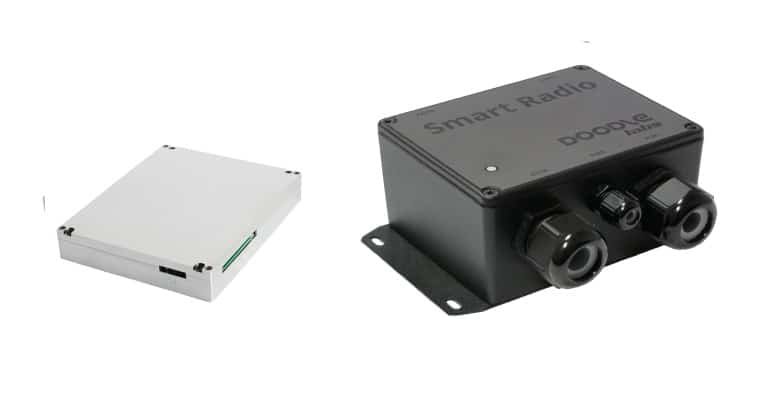 Doodle Labs has released the newest model in its family of defense-focused Smart Radios, the RM-4700, which operates at both upper and lower C-Band frequencies (4.4-5.0 GHz), covering the spectrum used by NATO and public safety applications. The new Smart Radio is ideal for military and first responder UAVs (unmanned aerial vehicles) and other unmanned systems.
The Smart Radio platform leverages Mesh Rider, an advanced RF and networking technology for MANET (Mobile Ad Hoc Networking) and long-range communication. Users can stream HD video from up to 20 km away, with one Doodle Labs customer recording a 116 km telemetry link using the 2.2 GHz Smart Radio. Mesh Rider also offers advanced mesh capabilities such as swarming and multi-hop communications, as well as advanced 256-bit AES encryption and FIPS 140-2 Level 2 compliance.
Smart Radios are form-factor compatible, allowing UAV system integrators to change the operating frequency of their systems by simply dropping in a different model. This feature extends the potential market for existing OEM products to global customers where different spectrum regulations are in place. In addition, non-defense systems can repurpose existing commercial designs for defense projects by changing the radio, saving development time and costs.
The RM-4700 comes in two form factors, Embedded and External. The Embedded package is a low-SWaP (size, weight, and power consumption) version that is smaller than a deck of cards. It is particularly well suited for mobile robotics application including UAVs and autonomous and unmanned ground vehicles (UGVs). The External version is enclosed in an IP67-rated metal housing designed for fixed outdoor use. All radios are compliant to MIL-STD-202G for high reliability in extreme environments.
Ashish Parikh, VP of Business Development at Doodle Labs, commented: "We're excited to announce the release of our C-Band solution. It opens up a new set of opportunities for our customers to pursue."