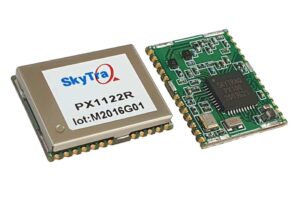 SkyTraq has launched a new multi-band GNSS RTK receiver measuring just 12mm x 16mm. The PX1122R tracks GPS/QZSS L1/L2C, Galileo E1/E5b, GLONASS L1/L2, and Beidou B1I/B2I signals and is designed for centimeter-level accuracy positioning applications such as UAVs (unmanned aerial vehicles) and robotics.
The PX1122R features an RTK initialization time of under 10 seconds and a maximum update rate of 10Hz. It can be configured as an RTK base or rover. In rover mode, it can receive RTCM 3.x data from an RTK base, or raw measurements from another PX1122R RTK base, delivering 1cm + 1ppm accuracy RTK position. In base mode, it can output RTCM 3.3 data or raw measurement data.
The PX1122R is designed to deliver reliable, centimeter-level accuracy positioning for both autonomous vehicle guidance and IoT (internet of Things) precision positioning, and is ideal for surveying and precision agriculture applications.
The system also supports moving base RTK -by using two PX1122R receivers and two antennas with 1 meter antenna separation, 1-sigma heading accuracy of 0.13 degree can be obtained regardless of magnetic environment or receiver speed.
Find manufacturers of GNSS Receivers for Unmanned Systems >>