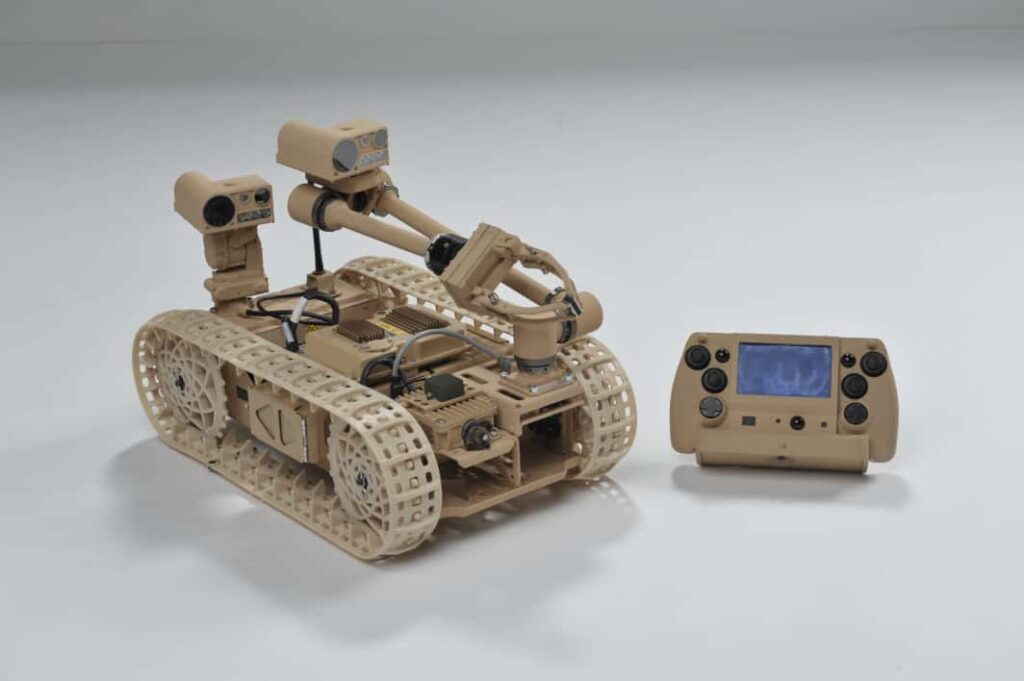 Doodle Labs' Smart Radio technology has been used to create a custom MIMO (multiple-input, multiple-output) solution for the U.S. Navy's Advanced Explosive Ordnance Disposal Robotic System (AEODRS) program. Harris, part of an industry team led by by Northrop Grumman, required a communications solution that would maintain connectivity even in highly demanding situations and turned to Doodle Labs to provide a solution for the AEODRS Increment 1 UGV (unmanned ground vehicle).
The AEODRS program was created by Naval Sea Systems Command in order to develop a highly interoperable family of UGVs for missions such as hazardous materials (HAZMAT) cleanup, explosive ordnance disposal, intelligence, surveillance and reconnaissance (ISR), and special weapons and tactics (SWAT). The portable Increment 1 system weighs less than 35 pounds, fits in a backpack and includes a handheld operator control unit, communications link, and a number of capability modules such as mobility, manipulation, and autonomous behaviors.
Harris required a communications link that would provide continuous performance in a variety of challenging environments. The most important requirement was maintaining connectivity in complete non-line of sight (NLOS) situations, such as through buildings and wreckage, so that the systems could be operated at a safe distance from up to 100 meters away. While in this situation, high-throughput data was required so that video could be sent. Fresnel zone interference was also an issue for long-distance communication since the system is only a few feet high. All of this needed to be encapsulated in a rugged, vibration-proof construction that operated in extended temperature ranges.
Doodle Labs' custom solution had some flexibility in selecting a frequency, as the end-customer was the military. Following extensive experimentation, it was determined that 1.4 GHz performed best at maintaining connectivity in NLOS situations, as radio waves were able to reflect off buildings to the sides of the obstruction.
The Doodle Labs team designed and constructed a high-power communications system leveraging building blocks from its Industrial Wi-Fi Transceiver family and its Front-End Subsystem (FES) family. The FES took a 2.4 GHz signal from the transceiver and down-shifted it to operate at 1.4 GHz. In addition, the FES also acted as a power booster to ensure connection was never lost.
The completed solution was successfully integrated into the AEODRS Increment 1 robot. In field tests, the system was able to double Harris' 100 meter NLOS requirement and achieve operation from 200 meters away through a building. The AEODRS Increment 1 robot has now been deployed to government customers around the world, and in the US the AEODRS program has passed the Critical Design Review with the US Navy.
Doodle Labs has also developed a commercial off-the-shelf version of the solution, called Special Band Transceivers, that combine the company's Industrial WiFi Transceivers with front-end subsystems.