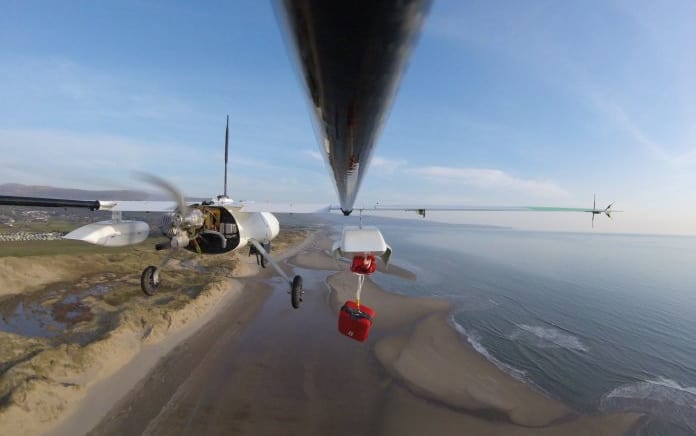 UAV Factory's Penguin B unmanned aerial vehicle has been used to conduct a successful demonstration of beyond visual line-of-sight (BVLOS) delivery of a defibrillator by drone. The demonstration was conducted by Snowdonia Aerospace, in conjunction with SwiftFlight Avionics, University of Manchester and the Welsh Ambulance Service, and the defibrillator was loaned by Schiller UK.
The demonstration, which was the first of its kind to be performed in the UK, was conducted at the Snowdonia Aerospace Centre, Llanbedr, North Wales, and funded by the UK Space Agency and Welsh Government under a National Space Technology Programme/Space for Smarter Government Programme. The goal of the test flight was to show how satellite-enabled drones could be used as part of a broader network to support remote healthcare services in rural Welsh communities that can be difficult to reach quickly via ambulance.
The defibrillator was delivered by the Penguin B UAV via parachute drop to a simulated first aider and casualty on a remote beach 4.5 kilometres from the launch location. The delivery took 2 minutes 50 seconds to complete, compared to an estimated 20+ minutes for an ambulance to reach the same location.
Snowdonia Aerospace plans to continuing the development of BVLOS drone capabilities as part of the upcoming UK Research & Innovation Future Flight Challenge, and hopes to engage with other emergency response stakeholders.