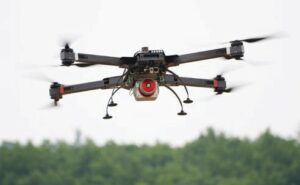 Applanix and Riegl have collaborated to develop a LiDAR mapping solution for UAVs (unmanned aerial vehicles) that provides high accuracy and precision while still meeting the SWaP (size, weight and power) constraints of unmanned aircraft.
Until recently, the use of laser measurement tools for aerial surveying and mapping has largely been restricted to manned aircraft. The size, weight and power consumption demands of many LiDAR systems, plus the addition of a system that can measure position and orientation with a very high degree of accuracy for direct georeferencing of the point cloud, have restricted this technology to only the largest unmanned systems.
A LiDAR surveying system that can be fielding by a wider range of drones requires two things: a laser that meets the size and weight constraints of the payload capacity of small UAVs, and a direct georeferencing (GNSS-inertial) system that meets the very high accuracy and precision demands of point cloud measurement while also meeting the same SWaP constraints.
Riegl's VUX-1 compact laser scanner packages a powerful sensor into a very small and lightweight footprint. Featuring Riegl's unique echo digitization and wave processing techniques, VUX-1 achieves superior measurement results even under adverse weather conditions. Weighing in at just over 3.5kg, the VUX-1 is capable of being flown on a variety of fixed-wing and rotary UAVs for applications such as powerline and pipeline inspections, urban mapping, mining, construction, and archaeology.
To meet the challenge of accurate direct georeferencing of the point cloud, Applanix has provided its APX-15 UAV, a complete and ready-to-integrate mapping solution that provides direct georeferencing for small UAVs. It integrates a high-performance, survey-grade, multi-frequency GNSS receiver and state-of-the-art low-noise MEMS inertial sensors into a single board measuring just 7 x 6 cm and weighing 60g.
The integration of the APX-15 UAV with the VUX-1 has resulted in a seamless, robust and affordable solution for highly accurate and directly georeferenced laser mapping from a small unmanned vehicle. The system can be custom packaged and configured for almost any UAV payload, from multirotor VTOL drones designed for working in close to historical buildings and archaeological sites, to medium-altitude long-endurance (MALE) fixed-wing UAVs for beyond-visual-line-of-sight (BVLOS) mapping of powerline corridors or pipelines.
The system combining the APX-15 UAV together with the VUX-1 improves efficiency by:
Enabling LiDAR surveys to be undertaken from a smaller unmanned platform
Enabling more frequent flights for temporal as well as spatial analysis of a changing survey site
Providing highly accurate ground truth in a very short time using Applanix' processing software
Flying LiDAR in smaller, tighter, more difficult spaces than with traditional equipment