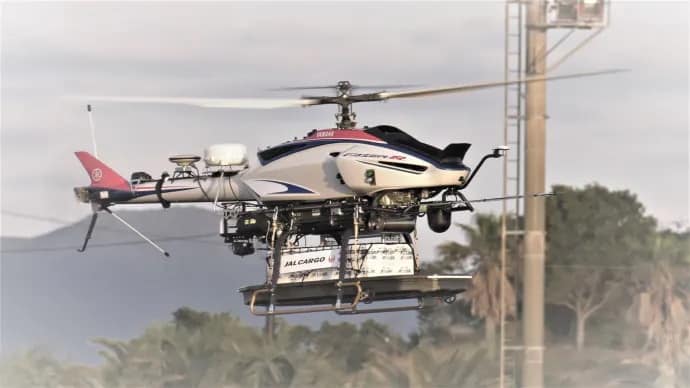 Yamaha Motor and Japan Airlines have successfully completed a trial using helicopter UAVs (unmanned aerial vehicles) that aimed to test the same-day transportation of freshly caught seafood from Japan's coastal fishing regions to major city centers such as Tokyo and Osaka. Yamaha used an industrial-grade unmanned helicopter to transport the cargo from an outlying island near the fishing ground to an airport for a connecting cargo flight.
The seafood transported in this trial originated in the Goto Islands, a small archipelago in Nagasaki Prefecture approximately 1,000 km west of Tokyo. In a coordinated effort with ground transport and a regularly scheduled Japan Airlines flight, 20 kg of longtooth grouper and other fresh fish successfully made the journey from the town of Shinkamigoto to a restaurant in Tokyo on the same day. The first leg of the journey was performed by Yamaha's FAZER R G2 industrial unmanned helicopter, which flew beyond visual line of sight (BVLOS) for more than 35 kilometers.
Takeoff and landing was carried out by onsite personnel, but the overwater flight was conducted remotely via satellite from Yamaha's Unmanned Systems office, 800 kilometers away in Hamamatsu, Shizuoka Prefecture. The helicopter flew a pre-programmed route at a 100-meter altitude while being monitored and controlled via data and video transmitted by the helicopter, completing the flight in roughly 40 minutes as planned. The same trip would take nearly 3 hours by car and ferry.
Yamaha began developing automatic flight capabilities via satellite for its unmanned helicopters following the earthquake and tsunami of 2011. Incorporating a satellite link enables operations across much wider areas than line-of-sight radio transmissions, and since implementing the technology, Yamaha's unmanned helicopters have achieved real results in a variety of fields, such as aerial measurement for commercial industry and for disaster assessment.
Osamu Sakamoto, of Yamaha's Unmanned System Section, commented: "In the pre-trial test flight the day before, we delivered cargo akin to medical supplies. The 46 km round-trip flight between Kamigoto Airport and Ojika Airport, both in the Goto Islands, required that the helicopter fly over the water and out of sight. We had to make a small course deviation to avoid flying over fishing boats, but the weather conditions were stable and pretty much everything went according to plan."
"The technology for automatic flight via satellite is already well-established for the most part. To link this technology to solving the issues societies are facing, one course of action is to increase the payload in order to carry bigger, heavier cargo."