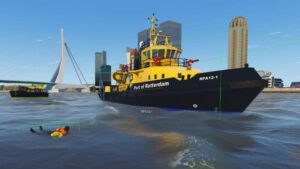 Xsens has released a case study detailing how its MTi-G-710 high-performance GNSS-aided inertial navigation module has been used by technology start-up Captain AI in its development of an AI-powered autopilot for ships.
Read the full case study on Xsens' website
Autonomous navigation at sea is a complex challenge, with collision avoidance often taking place within smaller distances than in the air. Maritime navigation must also take into account multiple physical variables, such as wave height and direction, currents, wind, and the power of the ship's engine, all of which affect the ability of the rudder to control a vessel's position.
Captain AI's solution uses sophisticated AI technology to fuse and interpret information from multiple sources, including digital maritime maps and charts, data from a wide range of sensors, and position data and signals from neighbouring vessels. Xsens' MTi-G-710 uses accelerometer, gyroscope and magnetometer measurements, plus input from an integrated satellite positioning receiver, to provide real-time attitude, position, heading and velocity outputs. This data is used to accurately control the unmanned vessel's rudder in increments as small as 0.36°
To find out more, read the full case study on Xsens' website.