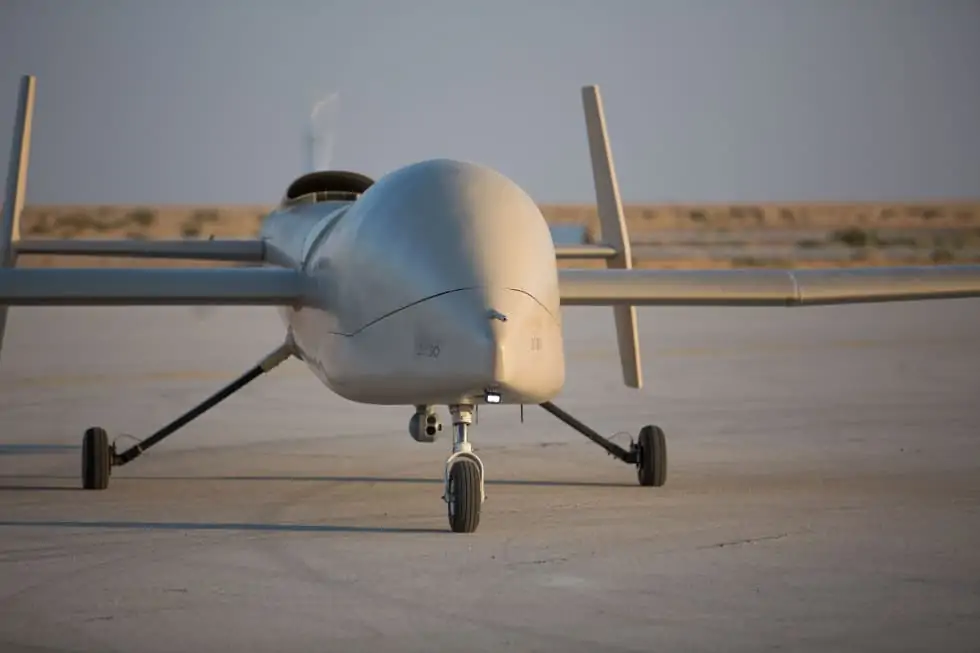 UAVOS has announced that, in conjunction with with King Abdulaziz City for Science and Technology (KACST) in Saudi Arabia, it has developed a new flight control system (FCS) for multi-mission, multi-domain unmanned aerial vehicle (UAV) platforms. As part of the R&D program for this project, the two partners have also developed the Saker-1B, a Medium Altitude Long Endurance (MALE) UAV equipped with satellite communication data link for Beyond Line of Sight (BVLOS) operation.
The Saker-1B features fully autonomous operation capability, including automatic taxi, takeoff and landing systems. Designed to operate in harsh environments including extremely dry and dusty air, the unmanned aircraft is capable of flying for more than 19 hours at an altitude of up to 16500 feet (5000 m), with a range of 1600 miles (2600 km).
The UAV was tested with a series of heavy-weight landings with the aircraft at its maximum takeoff weight (MTOW) of 2500 lb (1100 kg). Additionally, a number of different payloads were tested during surveillance missions to confirm overall system performance and readiness for real-world applications. The UAV uses a direct radio link when flying within Line of Sight (LOS), switching seamlessly to a satellite link when flying BVLOS.
In total, more than 500 hours of day and night test missions under various weather conditions, and a total of 1000 hours of take-off and landing test missions were successfully performed.
Aliaksei Stratsilatau, UAVOS CEO and Lead Developer, commented: "We're excited to work with KACST, a world-class organization in science and technology, fostering innovation and promoting a knowledge-based society in the Kingdom of Saudi Arabia. The ultimate goal of this scientific research and development partnership is to develop technologies that can turn our vision into the UAV of tomorrow. For 10 years in partnering with KACST, we have held to a singular and enduring mission: to make breakthrough technologies for the unmanned systems industry."