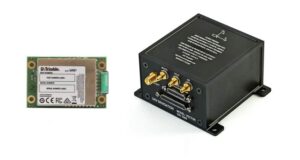 Trimble Integrated Technologies has confirmed that its Trimble UAS1 centimeter-level precision GNSS receiver for UAVs (unmanned aerial vehicles) is now compatible with UAV Navigation's flight control solutions.
The Trimble UAS1 receiver features a 336-channel high-precision GNSS engine, tracking L1/L2 frequencies from the GPS, GLONASS, Galileo and BeiDou constellations. The system supports Real-Time Kinematic (RTK) positioning using a base station, as well as OmniSTAR and Trimble CenterPoint RTX GNSS corrections subscription services for precise and robust positioning without a base station. The receiver also includes an industry-standard camera hotshoe interface, and a wide DC input voltage range provides compatible operation with a broad variety of UAVs and unmanned systems.
The Trimble UAS1 GNSS receiver is built to withstand vibration and temperature fluctuations, which along with its low SWaP (size, weight and power) footprint makes it ideal for integration into UAVs. The combination of the Trimble UAS1 with UAV Navigation's autopilots provides a complete solution for high-precision UAV flight control in dynamic environments.