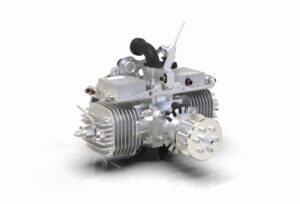 Sky Power, a manufacturer of 2-stroke internal combustion and Wankel engines for UAS (unmanned aerial systems), has announced the launch of SP-210 HF FI TS, a heavy fuel engine based on the company's SP-210 FI TS gasoline UAS engine.
The new engine runs on a kerosene-oil mix of 50:1 using JET A, JET A1 or JP-8, and is based on a new approach to heavy fuel technology developed by Sky Power. A large number of components were newly developed for the design, including a new kerosene heating unit which jointly manages the startup process along with the engine management unit. Both systems communicate through the CAN-Bus Interface, with temperature control provided by sensors installed in the drive unit.
This new HF technology can also be used to upgrade Sky Power's existing SP-210 series of gasoline engines. Customers selecting a configuration for a Sky Power UAS propulsion system can thus now choose between different fuel types, in addition to generators, starter-generators, power supplies and hybrid options.
The SP-210 HF FI TS features high system reliability over a wide range of conditions. The twin-spark (TS) system provides lower idling and quieter operation. Safety and reliability are increased in both single- and multiple-cylinder engines, and multiple-cylinder systems benefit from the active redundancy of two independent ignition systems.
Karsten Schudt, CEO of Sky Power GmbH, commented: "For UAS operators, there are obvious benefits provided by this HF technology. The systems are very flexible and reliable and therefore reduce the operational cost."