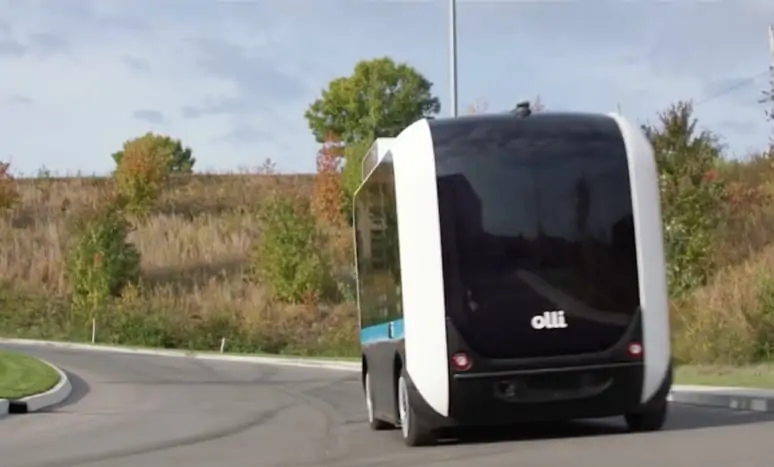 Robotic Research, a developer of autonomous and robotics technologies, has announced that it will soon begin testing fully autonomous and unmanned low-speed shuttles. Current commercial low-speed shuttles use onboard safety attendants to monitor the safety inside and outside the vehicle, and Robotic Research is planning to test the phasing out of these attendants. The first step in the process will be to have the attendants in fixed on-site locations, with the future goal to move attendants to an offsite safety monitoring facility.
Currently, most commercial shuttle operations are required by local, state and federal regulations to have a safety attendant inside the cab of the vehicle. Many transit operators are now seeking to change these regulations to allow remote attendants to oversee system safety operations, which will make low-speed shuttles viable for first & last-mile applications covering the distance between a traveller's origin or destination and a transit station or stop.
Robotic Research has already developed autonomy kits that fully automate logistics convoy trucks for the U.S. government and other nations, and these systems have been tested with no safety attendants on board, with a single operator monitoring three unmanned vehicles.
The company's AutoDrive autonomy kit is platform-agnostic and can be retrofitted to vehicles of all sizes, from small, portable robots to large trucks and buses. The system provides autonomous functionality on surfaces ranging from urban-improved roads to off-road terrain, all while the vehicle is collecting and analyzing data. The AutoDrive kit also supports various autonomy programs in commercial and government sectors and is currently operating in communities and cities around the globe, including 30 states and four continents.
Alberto Lacaze, president of Robotic Research, commented: "Through our work with the U.S. government over the past four years, we have already demonstrated that fully autonomous trucks are a reality. We are committed to making our shuttle and bus manufacturing partners successful by accelerating state-of-the-art technologies for unmanned vehicles ahead of regulatory agencies' progress."
"The level of safety certification and redundancy necessary to drive fully autonomous vehicles is a significant undertaking that needs to be designed from the top down. Just adding more ADAS is not a reasonable or cost-effective pathway to full autonomy. The advancements driven by the Robotic Research team will provide a product that significantly reduces the cost of operation and therefore improves market size."