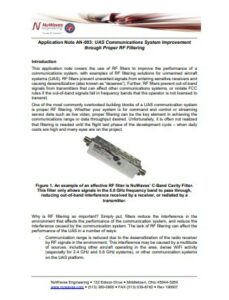 NuWaves Engineering, a developer of radio frequency and microwave technologies for UAVs (unmanned aerial vehicles) and other unmanned systems, has released an application note detailing the use of RF filtering solutions to improve the performance of communications systems for UAS.
RF filters prevent unwanted signals from entering sensitive receivers and causing desensitization, and prevent out-of-band signals from transmitters that can affect other communications systems or violate communications regulations. Proper filtering can help UAS command and control or sensor data streaming systems achieve the desired communications range or data throughput.
Download the application note from NuWaves Engineering's website here
The application note gives details of:
The basics of RF filtering and the four types of filter responses
Receiver desense in airborne platforms
UAS application examples
Designing-in good filtering
RF filter topologies and technologies, with advantages and disadvantages
On small UAS platforms, the close proximity of multiple communications systems greatly increases the risk of harmful interference between the
systems. Although the best engineering solution is to integrate RF filtering into the RF modules, this is often not possible when integrating COTS RF components and so external filtering is required. To find out more, download the application note from NuWaves Engineering's website.