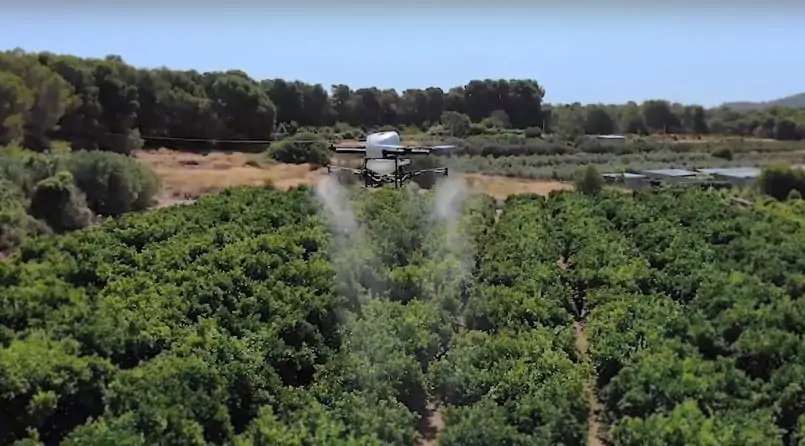 Quaternium, a developer of long-endurance multirotor unmanned aerial vehicles (UAVs), has announced that the company has tested its HYBRiX drone with precision agriculture applications, using the hybrid quadcopter platform to spray fertilisers in orange fields near Valencia, Spain. Quaternium recently achieved a new endurance multirotor drone record with the HYBRiX, accomplishing a flight lasting 4 hours and 40 minutes.
Using drones for agriculture increases the precision and efficiency with which farmers can work, and makes it easier to make informed land management decisions. Drones can be deployed for a wide variety of tasks, including monitoring of livestock and the health of crops, estimation of soil conditions, planting of future crops, and countering infections and pests.
The HYBRiX UAV is powered by a hybrid electric-fuel system with a fuel capacity of 5 litres, giving the aircraft a flight endurance of between 2 to 4 hours. This powerful propulsion system allows the UAV to carry up to 10 litres of liquid in total (including the fertilizer), with a maximum takeoff weight of 25 kg. The drone can therefore operate for longer and cover more farmland in a single flight, without the need for farmers to take heavy batteries out into the field.
Farmer Pedro Andreu tested the HYBRiX drone on his farm and was convinced by the advantages of using drones for precision agriculture, hoping to encourage other farmers to adopt the technology. He commented: "I am really glad to see that the entire spraying process in my orange fields has hardly taken 6 hours. With other drones, we had to spend multiple hours waiting for batteries to charge and days to finish the work."
Quaternium now plans to further refine its precision agriculture technology, aiming to help the farming industry with more widespread adoption of unmanned aerial systems in order to improve crop yields and protection and to make farmers' work more efficient.