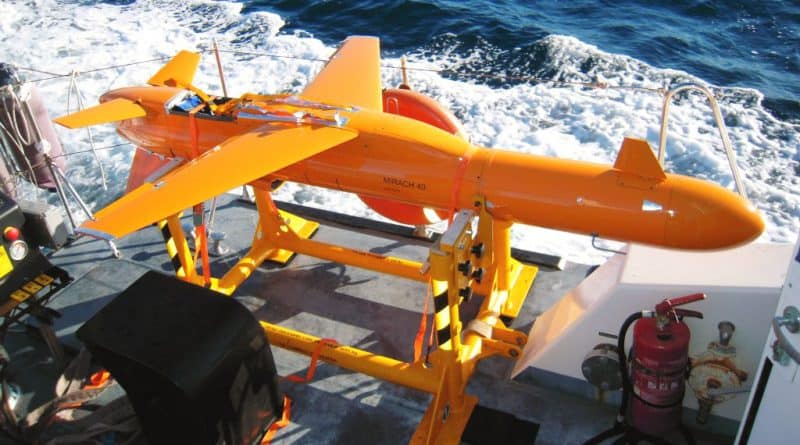 Leonardo has announced that it has performed a series of flights with its M-40 target drone in order to carry out realistic tests of MBDA's new Mistral surface-to-air missile. During the trials, which were performed in Italy, the M-40 was used to simulate modern airborne threats.
The M-40 is the latest addition to Leonardo's Mirach family of target drones, and can mimic a variety of aircraft and missiles, including radar, infrared (IR) and visual threats. The test series of six flights with the M-40 culminated in the live firing of a Mistral missile at one of the drones. The missile successfully intercepted the target, proving its capabilities and providing MBDA with valuable data on the missile's performance.
A fleet of M-40 drones is currently in service with the Italian Armed Forces. Leonardo operates the targets on behalf of the Armed Forces on a managed service basis, providing trained crew and all necessary support. Other nations, including some of the 15 who sent international delegations to witness the trials, have registered interest in a similar service model. The M-40 is also available as a standalone product.
In addition to the M-40, Leonardo also offers the Mirach 100/5 target drone, which has been used for over 20 years by a range of Armed Forces, including Belgium, Denmark, France, Germany, Greece, Italy, Spain, UK, Algeria, Argentina and Israel. The M-40 was developed in response to this extensive experience and feedback, and delivers medium-to-high performance with 60 minutes of endurance, making it a viable option for a wide range of training and proving requirements. The twin-engine Mirach 100/5 is ideal for occasions when customers need to simulate the highest-performance threat systems.