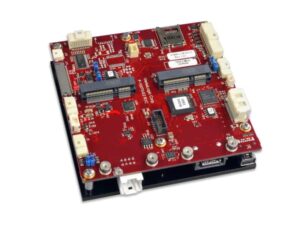 VersaLogic Corp., a developer of embedded computing products for unmanned systems and robotics, has announced the launch of the Owl, a compact and rugged embedded computing system with ECC memory in the Embedded Processing Unit (EPU) format. The Owl is based around Intel's latest 5th generation Apollo Lake processors, with dual or quad core options.
With a 95 x 95 x 27 mm footprint, the system is ideal for space-constrained UAVs (unmanned aerial vehicles), UGVs (unmanned ground vehicles) and other robotic platforms. Its soldered-down ECC memory enhances resilience to shock and vibration, and guards against single bit errors such as those that are likely to occur at higher altitudes. The Owl is designed and tested for full industrial temperature (-40 to +85 degrees C) operation and meets MIL-STD-202H specifications for shock and vibration.
The board accepts 8 to 30 VDC input, which accommodates fixed and mobile 12 and 24 volt systems. Additional protection is provided against damaging transient voltages, over voltage, reverse voltage, and RF intrusion.
The built-in TPM 2.0 security chip provides hardware-level security for secure log-ins, encrypted data storage, and protected files. On-board I/O includes dual Gigabit Ethernet, one USB 3.0 and four USB 2.0 ports, eight analog inputs, eight digital I/O ports, and four serial ports. A SATA interface, eMMC Flash, mSATA slot, and a microSD socket provide a range of data storage options. Dual Mini PCIe sockets accommodate plug-in A/D, Wi-Fi modems, GPS receivers, MIL-STD-1553, Ethernet, FireWire, and other mini cards.
VersaLogic can make a number of modifications to the Owl even in low OEM quantities, including conformal coating, revision locks, custom labeling, and customized testing and screening.
Find suppliers of Embedded Computing boards for unmanned applications >>