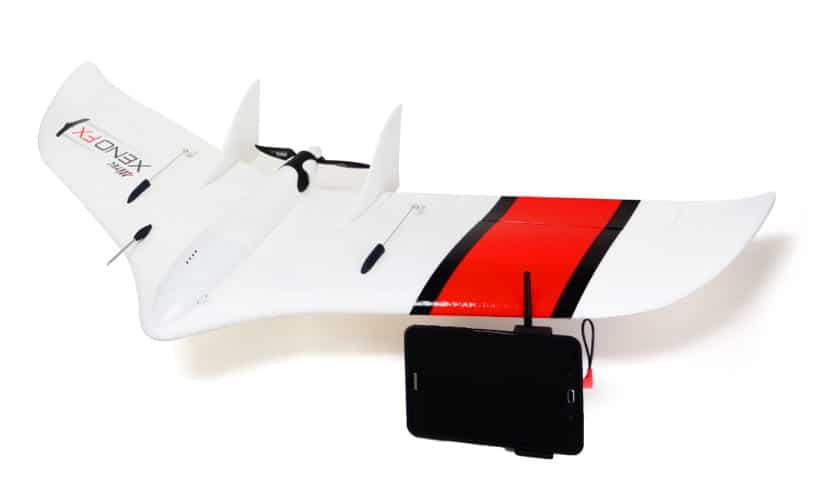 Hitec Commercial Solutions, a designer and manufacturer of professional UAV (unmanned aerial vehicle) solutions for a wide variety of aerial data-gathering applications, has announced the availability of the XENO FX, a fixed-wing UAV for mapping and surveying.
Constructed from lightweight durable Multiplex Elapor foam, the collapsible modular drone platform has been designed for ease of use and optimized to provide greater efficiency and cost-effectiveness for mapping, surveying and monitoring missions. The hand-launched UAV can be conveniently controlled via an intuitive app installed on an Android tablet, eliminating the need to transport bulky laptops or ground control stations. The Mission Control app can be customized according to users' needs and is also capable of flying BVLOS (Beyond Visual Line of Sight) missions with the XENO FX.
The XENO FX UAV is built around a Pixhawk Cube flight controller, the open-source ArduPilot drone autopilot software suite, and features an i.MX6 ARM-based processor. In addition to several standard payload package options, Hitec can integrate user-selected sensors into the aircraft and ensure they work seamlessly with the Pixhawk and the i.MX6 processor; providing a tailored solution for a diverse range of customer needs. The modular design allows payloads to be easily swapped out between flights for maximum mission flexibility.
Find out more about the XENO FX mapping & surveying UAV
With the ability to fly for up to an hour at a time, the system automatically integrates all geodata into images captured from onboard sensors – a process that is essential for making these captured images useful. Once the XENO FX lands, images can be downloaded to the tablet via Wi-Fi and are immediately ready for post-processing, saving time and resulting in a highly efficient workflow.
Examples of sensor and payload packages compatible with the XENO FX fixed-wing mapping UAS include:
MAPIR Survey3 multispectral survey camera – ideal for general photogrammetry
MAPIR Kernel single/dual modular camera platform – ideal for highly precise custom missions
Sentera Double 4K multispectral camera – ideal for precision agriculture
FLIR DUO thermal camera payload – ideal for first responder, security and wildlife monitoring
Technical specifications of the XENO FX:
Weight: 2.35 lbs. (1.1 kg) with standard camera
Wingspan: 49 in. (1245 mm)
Cruising Airspeed: 27-45 mph
Endurance: up to 60 minutes
Max Survey Range: up to 675 acres per flight (2.73 km2) @ 400 ft AGL
Learn more about the XENO FX fixed-wing mapping & surveying UAV at Hitec's website.