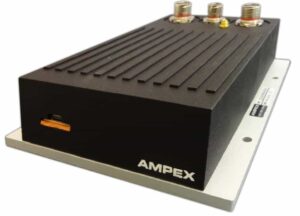 Ampex Data Systems has introduced a new Common Architecture Recorder (CAR), in response to customer demand for low-cost data acquisition, recording, and network attached storage (NAS). The CAR is ideal for 'attritable' systems – lower-cost vehicles that can be reused at least several times with minimal maintenance – such as UAVs (unmanned aerial vehicles) and UGVs (unmanned ground vehicles).
The CAR features up to 2 TB of storage in a lightweight, compact package, weighing in at 2 pounds with a volume of 62 cubic inches. It uses a non-proprietary, modular, extensible, Linux-based open architecture, allowing users to add third-party applications without exclusionary constraints.
With two miniPCIe interfaces, the CAR can handle a variety of I/O options, including video with H.264 encoding, MIL-STD 1553, Gigabit Ethernet (fiber and dual copper), as well as other options upon request. A USB Type C interface allows direct interfacing with the CAR's embedded storage and carries a 5Gb/s USB 3.1 link with Power Delivery (USB-PD3). This interface also provides the CAR with the flexibility to function as either standard USB storage or as a host computer.
Jim Orahood, Vice President and General Manager at Ampex, commented: "Ampex has always provided the best quality rugged storage for the high-end market. The CAR now offers the industry a similar capability at lower costs while still living up to our motto of providing 'Excellence at the Edge'."
Find suppliers of Video Recording, Data Acquisition & Streaming solutions for unmanned systems >>