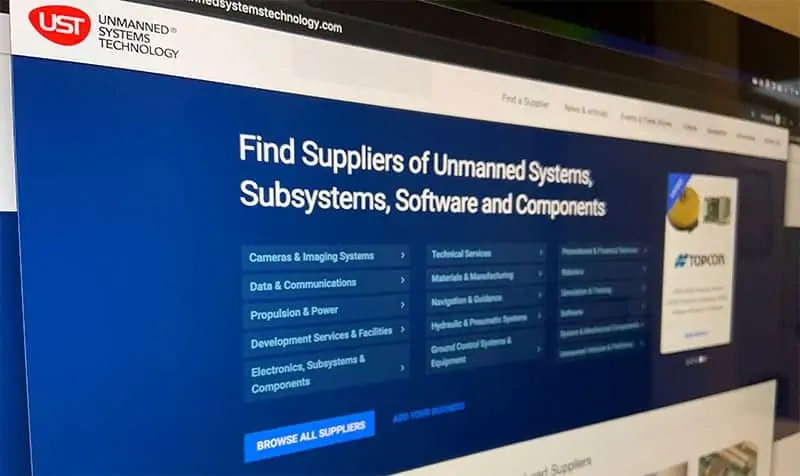 UnmannedSystemsTechnology.com has been recognised as one of the biggest global military and security online influencers in GlobalData's latest top 10 military and security influencers report.
The trusted, gold standard intelligence provider cited the Unmanned Systems Technology website as one of the top 10 security and military influencers for Q3 of 2019, based on data and research from GlobalData's influencer platform.
GlobalData has a proven track record in supplying the world's largest companies, government organizations and industry professionals with trusted and actionable intelligence. Serving a broad spectrum of industries including; Aerospace, Defence and Security, Mining, Oil & Gas, Power, and Technology, they leverage unique data and expert analysis in order to provide comprehensive, authoritative, and granular market intelligence.
Amongst others, UnmannedSystemsTechnology.com has been listed alongside The Centre for Strategic and International Studies (CSIS), UK Defence Journal and Defense One as a significant influencer within the military and security sector. GlobalData stated:
"Unmanned Systems Technology is a platform for technical information on unmanned systems. The website presents technology, products, and services associated with land, sea and air-based unmanned vehicles. The digital platform allows companies to display and advertise their devices and capabilities to professionals and users."
Caroline Rees, CEO and Founder of Unmanned Systems Technology, commented: "It's fantastic to receive recognition for the hard work that the team does, to report on and share the latest news and developments in this sector."
Established in 2011, UnmannedSystemsTechnology.com has a large global audience from more than 170 countries. The website showcases technical products and innovation within unmanned systems and robotics, spanning military and defense, government, security, commercial, first-response, mapping and agricultural sectors.
Follow UST on Twitter: @UnmannedSystem