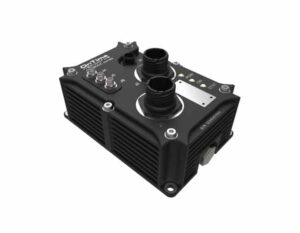 OnTime Networks, a developer of rugged data communication products for aerospace and defense, has announced the launch of the Cloudberry CM-4004F0-GMC-AERO, a small form factor GPS Time Synchronization Server (IEEE 1588 PTP v1/v2, NTP, IRIG-B, PPS) combined with a 4-port Layer 2 Gigabit Ethernet (GbE) switch. The new unit, designed to provide connectivity for SWaP (size, weight and power)-constrained platforms in harsh and noisy environments, is ideal for UAVs (unmanned aerial vehicles), USVs (unmanned surface vehicles), UGVs (unmanned ground vehicles) and other unmanned systems.
The unit's integrated GNSS module supports GPS, BeiDou and GLONASS, and the receiver can receive and track up to three GNSS systems simultaneously. By default, the receiver is configured for concurrent GPS and GLONASS, including QZSS reception. The unit can also be synchronized by an external reference, such as an external GPS receiver, via NMEA telegram and PPS input or an IRIG-B DC input source. PPS output signals can also be provided via GPO pins in one of the Ethernet connectors when enabled as a GMC or when operating as a TC/SC, which allows the unit to operate as an edge device to bridge time from a network based timing system to legacy timing sources.
The fully managed, Layer 2 Gigabit switch capability provides a broad suite of networking features, including support for IPv4 and IPv6 multicast traffic filtering according to static filters or IGMP snooping, Virtual Local Area Networks (VLANs), port control (speed / mode / statistics, flow control), Quality of Service (QoS) traffic prioritization, Link Aggregation (802.3ad), SNMPv/1/v2/v3 management, secure authentication (802.1X, ACLs, Web/CLI), redundancy (RSTP/MSTP) and port mirroring. The switch also supports Transparent Clock operation according to IEEE 1588 Std 2008 (PTPv2). Further, the unit also supports Built in Test (BIT), and data zeroization.
The unit weighs less than 2 lbs and has a typical power consumption of less than 15W. It is designed to meet the environmental requirements of RTCA/DO-160G and MIL-STD 810G as well as the EMI/EMC requirements of MIL-STD 461F and MIL-STD-704F. With small circular MIL connectors, extended temperature operation from -40 to +71C, and resistance to high shock/vibration, humidity, altitude, and dust/water ingress, the CM-4004F0-GMC-AERO is an extremely reliable and rugged solution for demanding environments.
Applications of the CM-4004F0-GMC-AERO for airborne, ground-based and sea-based unmanned systems include:
Observation payloads (radars, sonars optronics, electronic warfare)
Mission systems/communication networks
Satcom on the move
Mobile radios and C3I
Offshore platforms