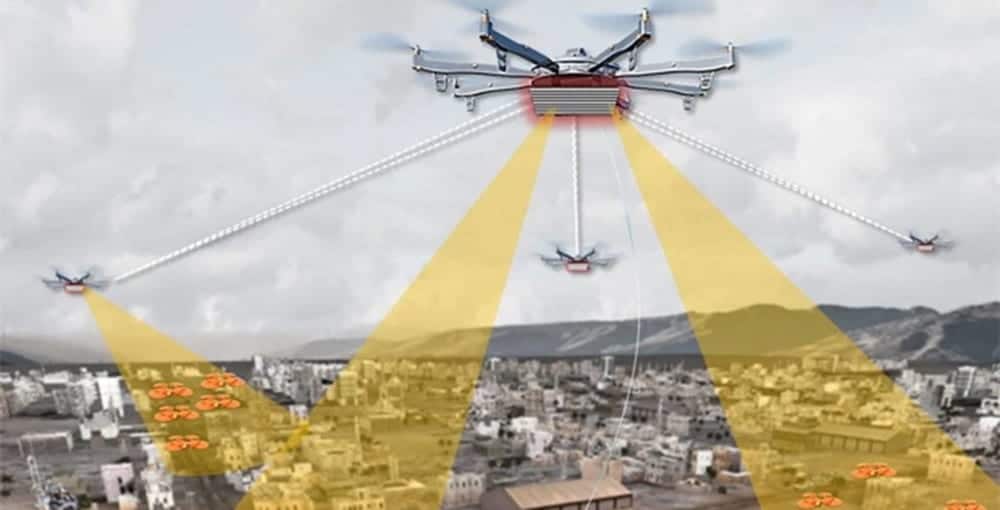 Echodyne has announced that the company's EchoGuard and EchoFlight radars were used by the Defense Advanced Research Projects Agency (DARPA) during the Aerial Dragnet program, which aimed to test situational awareness and surveillance of drones in an urban environment. The tests took place in San Diego, which has already participated in the FAA's Unmanned Aircraft System Integration Pilot Program (IPP).
Echodyne's radar sensors were mounted on two large tethered aerostat balloons flying at up to 400 feet above ground level (AGL) above the city, as well as fixed installations atop buildings and mounted on towers. The sensors were calibrated to detect and track small UAVs (unmanned aerial vehicles) and distinguish them from background objects such as buildings, vehicles, and birds. DARPA's testing program assessed how well the system could detect, track and identify drones during 150 waves, which included various commonly available commercial off-the-shelf models.
The tests were designed to simulate tracking of unauthorized and/or unidentified drones flying in the city. Although DARPA's focus is on protecting U.S. troops from drone attacks in urban settings overseas, the system under development could ultimately help protect U.S. metropolitan areas from potential drone-enabled terrorist threats, which is a growing concern as the volume of drones in urban airspaces continues to expand.
Tom Driscoll, CTO of Echodyne, commented: "The DARPA requirement to create full urban airspace situational awareness has been challenging yet rewarding. In conjunction with APL-UW [Applied Physics Laboratory at the University of Washington], we operated more than a dozen radars on aerostats and rooftops to detect and track urban drone flights. Our performance demonstrated that Echodyne's innovative, beam-steering, electronically scanning radars have unique operational, sensitivity, and intelligence characteristics necessary to conduct networked airspace surveillance over a major US city like San Diego."
Find suppliers and manufacturers of Anti Drone technology >>