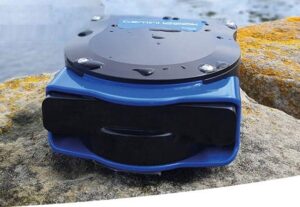 Tritech International Limited, a developer of subsea technologies, has announced the launch of its new Gemini 1200ik Dual Frequency multibeam sonar. The latest addition to the Gemini product range, which is ideal for unmanned underwater vehicles such as ROVs (remotely operated vehicles) and AUVs (autonomous underwater vehicles), features the ability to switch between high and low frequency depending on the desired application.
The 720 kHz low-frequency setting is designed for target identification and long-range obstacle avoidance, and the 1200 kHz high-frequency setting delivers detailed multibeam images for close range inspection. Frequency switching can be performed manually or programmed to automatically occur at a particular range. The system is able to maintain a 120° field of view across both frequencies, ensuring constant persistent viewing of the target at all ranges.
The Gemini product line is used worldwide for a broad range of applications, including oil and gas, search and recovery and shark detection. This latest addition to the line, designed for more challenging environments, has benefitted from significant engineering advances, resulting in a depth rating of 350m, a 2.4mm range resolution, and an effective angular resolution of 0.12°.
Scott McLay, Sales Director at Tritech, said: "With the increase in shallow water operations, especially around offshore renewable energy operations, the need for better ways to "see" in zero visibility conditions have never been higher. The dual frequency Gemini 1200ik can be used not only for navigation but for target identification and classification in these zero visibility conditions which has benefits within both commercial and defence industries."
David Bradley, Managing Director at Tritech, commented: "We are delighted to be able to bring this new advanced technology sonar to the market after a lot of hard work to develop a product that is superior in quality to anything else in its class. Tritech continues to innovate in sonar technology in order to meet market needs both in traditional and evolving markets for these products. We have also significantly improved the way we develop these products which we believe will allow us to solve more customer challenges in a timely manner."