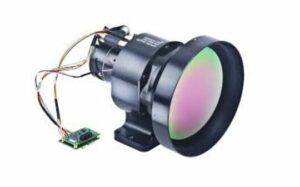 Ophir IR Optics, a developer of optical elements and assemblies for thermal imaging applications, provides a range of high-performance cooled MWIR long-range lenses suitable for unmanned systems applications. Showcased at DSEI 2019 in London for the first time, the range includes 900mm and 1350mm motorized continuous zoom lenses that are suited for 15μm and 20μm VGA and 10μm HD formats, providing a detection range of up to 26km.
The SupIR 45-900mm f/4 zoom lens has been designed for ground-based long-range observation platforms such as counter-drone systems and UGVs (unmanned ground vehicles). It is ideal for applications such as border control, forest fire control, critical infrastructure, security and surveillance. Based on a rugged proven legacy design, it provides NFOV focal length ranges from 300mm to 900mm, and HFOV up to 0.6°.
The SupIR 50-1350mm f/5.5 zoom lens is based on a high-accuracy folded optics design that fits a standard 20-inch airborne gimbal, making it ideal for UAV (unmanned aerial vehicle) imaging payloads, as well as other SWaP-critical applications. It provides a 27X zoom ratio and accurate line of sight.
Yitzhak Raif, VP/GM of Ophir Optics Group, commented: "Our 45-900mm f/4 and 50-1350mm f/5.5 motorized zoom lenses are state-of-the-art, long-range continuous zoom lenses which deliver superior optical performance and are specifically designed to meet the exacting requirements of aviation and observation systems."