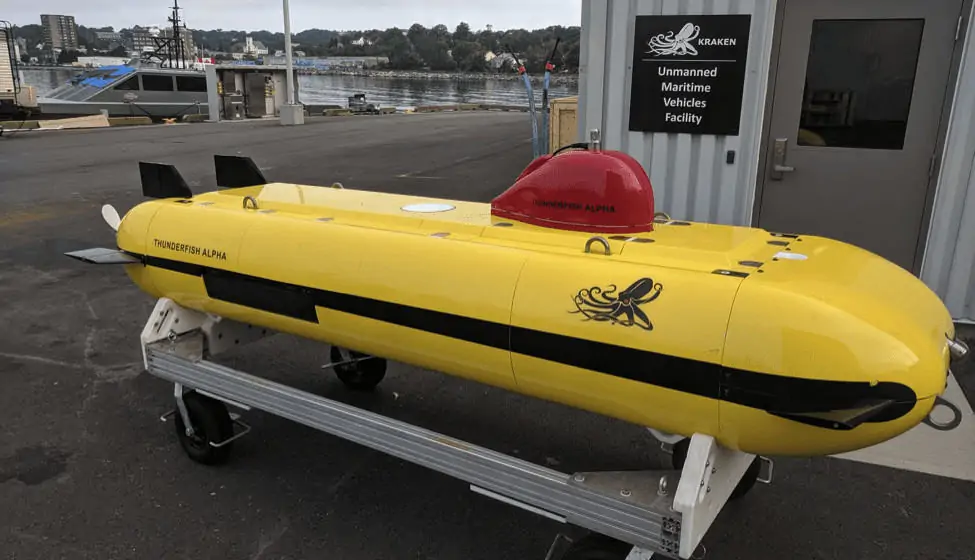 Canada's Department of National Defence's science and technology organization, the DRDC (Defence Research and Development Canada) has taken delivery of the ThunderFish 300 Autonomous Underwater Vehicle (AUV) developed by Kraken Robotic Systems Inc.
The result of a $1 million contract awarded by the Canadian government's Build in Canada Innovation Program, this exchange is the first pre-commercial sale of the ThunderFish 300 following final sea acceptance testing.
Designed to undertake a variety of oceanographic and military tasks, Kraken's ThunderFish 300 is an innovative marine robot capable of ultra-high resolution seabed imaging and mapping applications.
Uses include:
underwater surveying
environmental monitoring
habitat mapping
marine archaeology
underwater search and inspection
naval mine countermeasures.
The modular design of the ThunderFish AUV enables fast sensor reconfiguration and battery replacement. Equipped with multiple sensors and custom payload modules, ThunderFish also includes Kraken's AquaPix Synthetic Aperture Sonar (InSAS) enabling the provision of constant resolution, detailed seabed imagery.
Kraken are continuing to develop the ThunderFish platform, looking to increase its size, endurance and payload capacity in order to meet increasing commercial and military demands for underwater mapping, imaging and operational awareness.