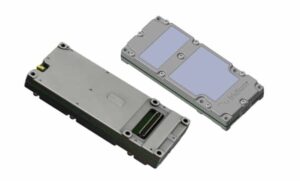 Iridium Communications has announced the launch of its new Iridium Certus 9770 transceiver, which transfers IP data over 35 times faster than its predecessors and also supports high quality voice connections. The new midband device features L-band speeds ranging from 22 Kbps to 88 Kbps and is designed for applications such as drones, robotic platforms and IoT (Internet of Things) devices.
The first 10 approved beta partners are already developing and testing new products based around operational beta units of the Iridium Certus 9770. The companies include Beam Communications Pty. Ltd., Blue Sky Network, Cobham, Lars Thrane, Marine Instruments S.A., McQ Inc., NAL Research Corporation, SkyTrac Systems Ltd., Telespazio and Wireless Innovation. Once the initial testing phase is complete, the new transceiver will be made available to additional Iridium licensed technology and distribution partners.
"This new breed of device is the start of a shift in what defines small-form-factor satellite communications technology," said Matt Desch, CEO of Iridium. "These are highly mobile, lower-cost solutions that feature native IP technology at speeds capable of delivering a true internet, email, high-quality voice, photo and even some video capabilities. When you combine that with our truly global coverage, we're creating a cost-effective and reliable ecosystem of new products in a new L-band speed class, midband, that is unlike anything that exists from the satellite community today."
Iridium leverages its core technology components such as the new Iridium Certus platform to allow its partner network to develop state-of-the-art products and applications. Iridium Certus provides the versatility to scale device speeds, sizes and power requirements to user needs, and will allow the creation of mobile, more compact technologies such as UAVs (unmanned aerial vehicles) with faster data transfer and enhanced telemetry.