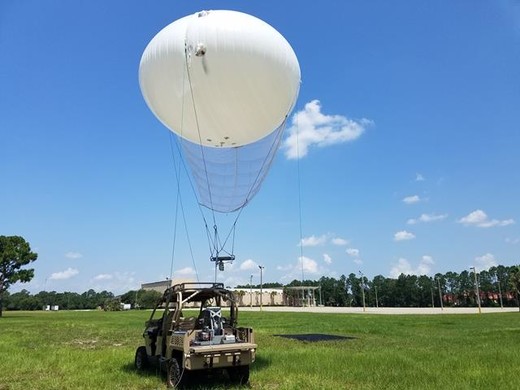 Drone Aviation Holding Corp, a developer of tethered aerial monitoring and communications platforms, has announced that it has completed a U.S. Army safety and performance review and delivered multiple WASP Lite unmanned aerostat systems to the customer under the $1.1 million award. The first-of-their-kind WASP Lite systems successfully completed extensive customer operational flight safety and performance testing in Jacksonville and were then shipped to the U.S. Army for transportation to currently deployed ground forces.
In contrast to expensive large aerostat systems, WASP Lite is a new generation of easily transportable and operationally mobile aerostats, the results of significant collaborative product development, testing and operational evaluations conducted with the U.S. Army. WASP Lite is multi-mission capable featuring a plug and play payload configuration enabling troops in the field to quickly add ISR and communications equipment to match their mission and can be carried by two soldiers, dropped from a helicopter or transported in the back of a small pickup truck.
The award was the first received by the Company for the WASP Lite and included multiple units, sustainment and soldier training.
"Acceptance testing and delivery of our first production run of WASP Lite systems to the Army is an exciting milestone and we are especially proud that these new systems will be providing critically-needed battlefield communications capabilities for the brave men and women deployed on the ground overseas," said Jay Nussbaum, Chairman and CEO of Drone Aviation. "I am pleased that we were able to leverage our recent investments in manufacturing capacity and inventory to deliver these products in record time."
The WASP Lite system is an ultra-tactical persistent aerial asset designed to be easily portable in a series of ruggedized cases and is quickly deployable to fill vital capability gaps on the battlefield. It utilizes the proven capabilities of the Company's larger WASP tactical aerostat system incorporated into a highly mobile, minimized footprint design. WASP Lite is a compact, non-trailer based, persistent aerostat system that can be setup and deployed virtually anywhere – on the ground, on a building rooftop or on the back of a vehicle – and operated while stationary or while moving up to 40 mph. It can be deployed up to 1,000 ft. and supports a wide range of in-field swappable payloads including multiple simultaneous communications waveforms, ISR and signal intelligence (SIGINT) enabling operators to choose the best configuration to match their mission.
Watch a new video about the WASP Lite aerostat below: