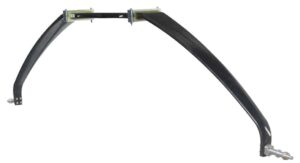 UAVOS has announced that it has created an advanced leaf-sprung leg for the main landing gear of UAVs (unmanned aerial vehicles) that weigh up to 1200 kg. The leaf spring is made from aircraft-grade prepreg carbon fibre, manufactured with a high-temperature molding procedure that makes it 38% stronger, thinner and lighter compared to the fiberglass equivalent.
Inside the leaf spring there is a duct for a brake hose and landing sensor wire. Modern material and chassis design allowed UAVOS to save 7 kg in weight (in comparison with fiberglass), to reduce aerodynamic resistance, and to ensure the protection of the brake hydraulic system and electrical wiring leading to the chassis.
The leaf spring of the main landing gear leg softens the blows that occur when the unmanned aircraft lands or runs over the uneven surface of a runway. The total weight of the leg is 19kg.
Aliaksei Stratsilatau, UAVOS' chairman of the board and lead developer, commented: "We're continuously developing new technology to meet the future demands and needs of all of our clients. By improving the quality of individual components in UAV systems, we increase the level of reliability and security of UAVs we produce".