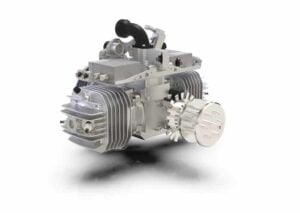 Sky Power, a manufacturer of propulsion systems for unmanned aerial vehicles (UAVs), has announced that it will unveil a series of new engines for different UAS performance classes at the AUVSI Xponential 2019 trade show in Chicago. The new product portfolio ranges from small single-cylinder engines based on carburetor technology to 2-cylinder engines with carburetor or injection system options.
"We are very proud to be able to present an entire series of new engines at the trade fair. This is an important step for our young, but experienced company. We have incorporated more than 30 years of experience of our employees into developing efficient, reliable and powerful efficient, reliable and powerful engines," stated Karl Schudt, CEO of Sky Power GmbH.
Of the new engines, only the SP-28 is available in just one version, as it is the smallest single-cylinder engine in the portfolio. This engine is equipped with a carburetor and has an improved cylinder design for increased thermal stability. From the second half of the year the engine will be offered with the newly developed SP-IGU ignition system.
All other engines in the Sky Power portfolio are provided with two spark plugs. "With the SP-28 this is not possible due to the small cylinder volume of 28 ccm," commented Schudt. The SP-55 series, with 55ccm, can be operated both with a carburetor as well as with an injection system. Both the carburetor and the injection system are positioned at the side of the crankcase and inject directly into it. As a result, a generator or starter generator can be positioned on the rear exposed drive shaft, which enables a highly compact design. In addition, the engine is equipped with Sky Power's HKZ215 ignition system and ECU030 fuel injection system.
"At the trade fair we will present the engine in a carburetor version. However, the engine is also available in other versions, with injection system and soon as a Heavy Fuel (HF) variant," added Schudt.
Heavy fuel engines will be available in the near future, with three different versions based on one engine. 2-cylinder engines with 110, 210, 170 and 275 ccm will presented at AUVSI Xponential. All engines can be provided with a generator or starter generator on the drive shaft and are equipped with the HKZ215 ignition system and the ECU030.
The entire engine portfolio can be used for hybrid operations. "What kind of generator power and other subsystems are necessary depends on the customer's application. Because of this we presented our Engine Kit last year, which gives the customer an overview of the different options. Ultimately almost every engine leaves our production in a different configuration, dependent on the customer's needs," stated Schudt. Furthermore, all engines can be provided with a system carrier, on which the ignition electronics are mounted. As a result, the engine can be integrated with the most important subsystems in an aircraft to save space.