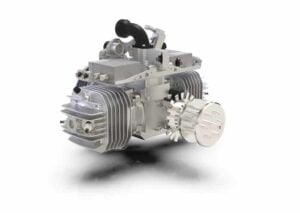 Sky Power, a German manufacturer of engines for unmanned aerial systems (UAS), has announced that the company has opened a subsidiary in the United States in order to further expand their business. Sky Power America LCC, located in Colorado, will focus on all business and marketing matters in the Americas.
"We are thrilled to be able to announce the incorporation of Sky Power America just before Xponential 2019," commented Constantin Diehl, responsible for the distribution of Sky Power products in the Americas sales region. Diehl will be heading the new organization as its MD. "Due to the different time zones to Germany it is difficult to handle inquiries from this continent appropriately. Therefore, it was easy to decide on a subsidiary in the US," he added.
Sky Power America will place a foremost focus on distribution. "To open a subsidiary in the US shows we take the American markets very seriously and strive to establish good relationships with our costumers and stakeholders. Therefore, we need the best structure, especially focusing on project management," commented Karl Schudt, MD of Sky Power GmbH, Germany.
Sky Power will be exhibiting its engines and propulsion solutions for UAS at the AUVSI Xponential 2019 trade show in Chicago.