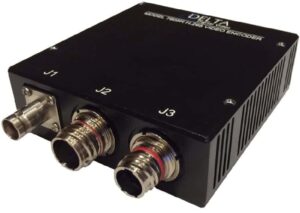 Delta Digital Video, a supplier of video encoding solutions for Full Motion Video (FMV) transmission and exploitation, has announced the introduction of the Model 7805R H.265 Video Encoder. The Model 7805R offers all of the advantages of H.265 video compression in a compact, rugged unit designed to meet the stringent requirements of unmanned air, land, and sea platforms such as UAVs, UGVs and USVs.
The Model 7805R is included in Delta Digital Video's line of next generation MISB/JITC compliant video encoding products specifically engineered for the demanding environmental requirements of military ISR applications. The 7805R is designed around an advanced, high-speed multi-media processor supporting both H.265 (HEVC) and H.264 (AVC) video compression algorithms and resolutions up to 1080p. Despite high performance and low latency, the encoder power comes in at just under 10 Watts. Measuring less than 20 inches and weighing half a pound, the 7805R is an ideal solution for size, weight, and power (SWaP) constrained platforms.
Find Suppliers of Video Encoders for Unmanned Applications
In addition to a fully configurable network interface, the 7805R offers a PCM output for systems requiring a synchronous serial interface. The unit is easily configured for operation with any sensor and network.
"Our new Model 7805R is built on several decades of video compression innovation and program success and confirms Delta Digital Video's commitment to supporting video encoding applications within the MIL-Aero community," said George Nelson, Vice President and General Manager. "The 7805R's high performance H.265 encoding extends the capabilities for new and existing datalinks by improving quality and increasing channel counts. This unit has the flexibility to meet requirements across diverse platforms."
Delta Digital Video will display the Model 7805R H.265 Video Encoder at upcoming trade shows including NAB Show, SPIE, AUVSI Xponential, and SOFIC.