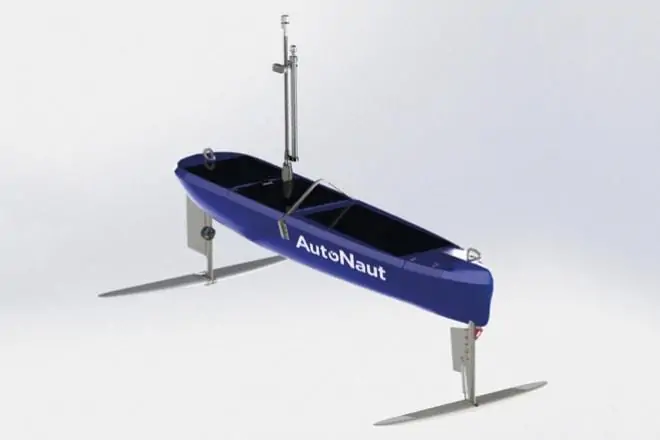 AutoNaut has announced the launch of its new 3.5 Comms Hub unmanned surface vessel (USV), which is specifically designed for deployment as a long-duration surface gateway. Flexibility in sensor fit enables tasks including data harvesting, precision positioning and communications from and to sub-sea assets. Onward relay can be via satellite for over-the-horizon missions. Payload versatility means that secondary sensors can also be fitted. The new 3.5 metre long USV will be unveiled at the Ocean Business 2019 technology exhibition.
Pete Bromley, MD of AutoNaut, commented: "Our new 3.5 Comms Hub is the result of lessons learned from missions with our 5 metre boats. We are excited to share this new capability at Ocean Business."
Phil Johnston, heading up Business Development at AutoNaut, added: "Being able to launch and recover is the key asset of the new 3.5. This, in addition, to the multi-week endurance capability. We're very excited to now be pushing forward with commercial applications, such as data communications and positioning tasks."
AutoNaut has been building up a range of 5 metre missions over the last six months. Boats have been simultaneously operating 24/7 across several continents on month-plus long missions.
AutoNaut's near silent sound profile – the wave-foil technology involves just a few moving parts – reduces noise interference to almost zero. This enables sensors such as USBL and LBL to operate with optimal efficiency. The 3.5m AutoNaut's robust and compact design means it is simple and safe to launch and recover, either directly to and from a slipway or to/from a vessel at sea via a single-point lift. The AutoNaut can therefore complete long endurance missions without any need for a support vessel, but with the flexibility for rapid deployment or recovery.
AutoNaut's unique Wave Foil Technology converts energy from the pitch and roll of the hull in waves into thrust. Keel-mounted foils, positioned at the fore and aft, propel the vessel forward without need for carbon fuels. The foils are articulated for consistent performance in all wave directions and a range of sea-states. In calm conditions, an auxiliary propulsor can be used to ensure a steady speed.