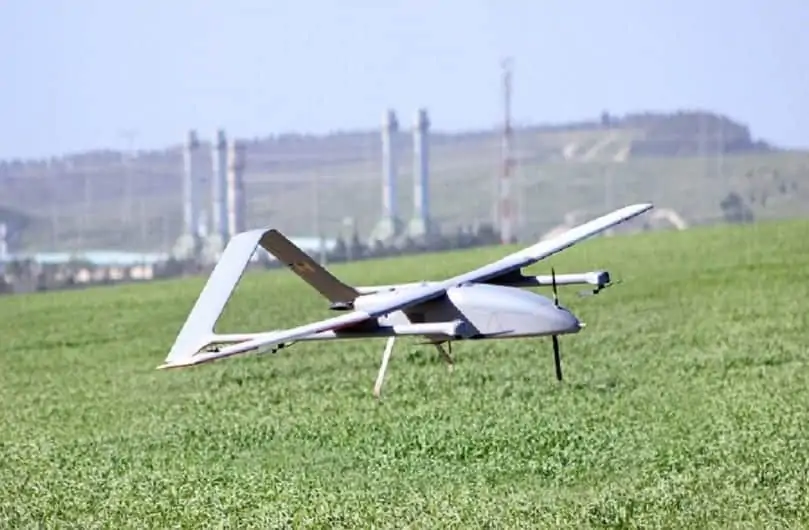 Cyient Solutions & Systems, a joint venture between Cyient Ltd. and BlueBird Aero Systems, has announced the launch of its latest offering, the WanderB Vertical Take-Off & Landing (VTOL) Unmanned Aerial System (UAS). The WanderB VTOL is designed for military, peacekeeping, low-intensity conflict resolution, law enforcement, disaster management, and commercial applications. The system is being showcased at the Aero India 2019 trade show.
The WanderB VTOL is an electric mini-UAS specially optimized for covert, "over-the-hill" operations, supporting extensive day and night ISR missions. It combines the advantages of fixed-wing operation with vertical take-off and landing, supporting significant range, endurance and speed. WanderB offers a tactical advantage to defense, paramilitary and security forces for real-time critical intelligence gathering and surveillance.
The VTOL feature makes the WanderB a versatile solution for both land and maritime operations. As a fully autonomous UAS equipped with two batteries, the WanderB VTOL can operate even in strong winds and harsh weather conditions. The system offers high operational availability of 2.5 hours and has a mission range of 50 km (extendable up to 80 km). Using a proprietary ground control system and video-exploitation software, the system relays GPS-marked imagery to ground forces in real-time, enhancing situational awareness and mission execution capability.
NJ Joseph, Managing Director and CEO, Cyient Solutions & Systems commented: "We are delighted to launch the WanderB VTOL for the Indian defence market and Aero India 2019 is the ideal platform to showcase this advanced system. The system breaks new ground in operational versatility and performance making the WanderB VTOL a unique solution for critical, real-time intelligence gathering and surveillance."
Ronen Nadir, CEO of BlueBird Aero Systems said: "The new VTOL capability frees the WanderB UAS from take-off and landing space limitations, paving the way for its utilization by users who require precise point take-off and landing, together with the advanced operational capabilities already delivered by our field-proven systems. The WanderB VTOL system is the result of significant R&D investment, designed to bring to the market a cost-effective, reliable, high-performance solution that successfully handles the missions associated with modern battlefield, and homeland security requirements, as well as for civilian markets."